Nerf Recalls Popular Go-Kart Due to Serious Steering-Wheel Malfunction
Hauck Toys, who makes the Nerf Battle Racers, has received 639 reports of defective steering wheels.
by Ben Marx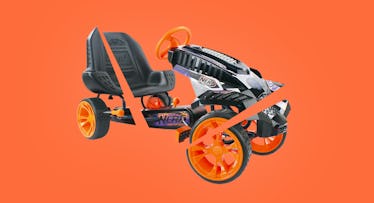 The idea behind the popular Nerf Battle Racer peddle go-cart is simple: Unleash a fury of foam darts as you barrel full-speed at your enemy Mad Max-style. The only problem, it now turns out, is that the damn thing may crash before you get there. The manufacturer of the go-kart, Hauck Toys, just issued a recall on over 28,500 vehicles because the steering wheel "can detach, break or crack" while driving, causing it to become a laceration and collision hazard according to the Consumer Products Safety Commission.
According to the recall report, Hauck Toys has received 639 reports in the U.S. alone of this steering wheel issue, and at least two kids have been injured. One incident resulted in a "laceration to a child's face requiring stitches" while another resulted in "a minor scrape to a child's chest."
The Go-karts were sold at any number of major retailers including Target, Walmart, and Amazon between January 2016 and March 2017, and the manufacturing date can be found on the underside of the seat. If your go-kart is included in the recall, contact Hauck at either 877-428-2545 or online at www.hauck-toys.com (click on "Product Recall" at the bottom of the page) to request a new steering wheel free of charge.
This article was originally published on