This Interactive Chewbacca Toy Is Blowing Up Right Now
Ever wondered what a Wookie snore sounds like? Hasbro has you covered.
by Luis Paez-Pumar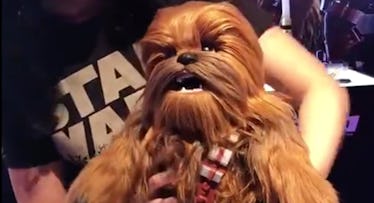 Star Wars Junk/Twitter
The annual American International Toy Fair in New York City, as you might imagine, is a toy lover's paradise. The 2018 edition which runs through February 20 – has been no exception. Despite literal tons of toys being exhibited in the Jacob K. Javits Convention Center, one furry friend has stolen the show: Hasbro's 16-inch interactive Chewbacca toy that's packed with more than 100 motions and sounds.
Little Chewbacca, which is part of Hasbro's FurReal line, is fully interactive. Nearly all of its sounds and motions are connected to how you touch or hold it. Rub its head, for instance, and it'll raise its arms and greet you with a glorious Wookie coo. Perhaps most adorably, you can rock Chewbacca to sleep and he'll snore the night away. Chewie will also reportedly have special easter eggs for big Star Wars fans, depending on how users interact with him. No word yet on whether he'll growl if he sees a Kylo Ren doll; Wookies can hold grudges for a long time.
This isn't FurReal's first rodeo when it comes to animatronic companions. The company has previously released un-branded dogs, cats, and even a unicorn. Speaking to Business Insider, Star Wars director of design and development Steve Evans was candid about future possibilities for furry buddies from a galaxy far, far away: "I can see a porg version. I want to see what J.J. does in Episode IX, but yeah. This is our first step into emotionally connective characters. The team did an incredible job. So, who knows? Maybe we'll do some more."
Hasbro's Interactive Chewbacca is expected to hit stores in Fall 2018.