Hasbro Has Trademarked the 'Play-Doh Smell'
Your favorite childhood scent is now protected by the law.
by Ben Marx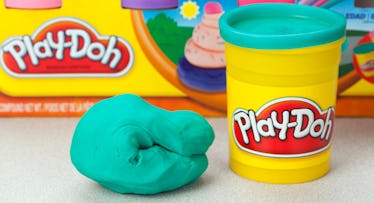 Sure Play-Doh is fun to roll and shape. But, what's really helped it hold onto it's title as the biggest name in moldable clay is that unmistakable smell. Now, Hasbro, owner of the Play-Doh brand, has officially trademarked that unique aroma. The smell was just officially recognized by the U.S. Patent and Trademark Office (USPTO), marking one of only a few instances where smells have been successfully trademarked.
Last year, Hasbro submitted an application to trademark the special smell, which it describes as "a unique scent formed through the combination of a sweet, slightly musky, vanilla-like fragrance with slight overtones of cherry, and the natural smell of a salted, wheat-based dough."
Since Play-Doh first hit shelves almost half a century ago, its formula has remained mostly the same, meaning that generations of kids all grew up taking whiffs of the same dough. (And, let's be honest, see how it tastes) Even so, Hasbro sent a container of Play-Doh to the USPTO as part of its application process, just to really remind officials there.
"The scent of Play-Doh compound has always been synonymous with childhood and fun," said Jonathan Berkowitz, senior VP of Global Marketing for Play-Doh, because nothing says fun like referring to a childhood toy as a compound. "By officially trademarking the iconic scent, we are able to protect an invaluable point of connection between the brand and fans for years to come."
What's Hasbro's plan for the scent now that they've successfully won the trademark? It's not clear, but this also isn't the first time the company has played around with the scent specifically. In 2008, they partnered with a fragrance company to produce a whole line of "Eau de Play-Doh" scents for its 50th birthday, which you can still purchase today.
This article was originally published on