Hasbro's Reward for Asking Kids What's Cool? Millions in 'Black Panther' Sales
More ticket sales equals more toys for Marvel's latest mega-hit.
by Raz Robinson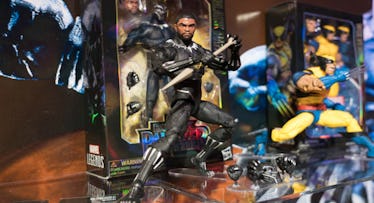 JamesGames via Toy Fair 2018
What Marvel Studios' Black Panther has done at the box office is nothing short of remarkable. In the two weeks since hitting theaters, the 18th film in the Marvel Cinematic Universe has made more than $700 million at the box office. Equally as incredible, however, has been the bump in toy sales based around Wakanda and all its characters. Just ask Hasbro.
Selling toys related to a successful movie like Black Panther "is a huge opportunity," said John Frascotti, the president of the toy giant. "We're still in the early days of this, but it certainly has all the indications that it could be over time as successful [as other major franchises]."
According to Bloomberg Reports, Hasbro's big success has nothing to do with Black Panther's all-black cast or an attempt to create more representation in the toy industry. Hasbro simply asked kids what they thought would be cool to see. Their answers pointed towards T'Challa: "He has what they want in a superhero,'' said Adam Biehl, Hasbro's vice president of global brand strategy and marketing. When put that way, is it a huge surprise that a hero with superhuman strength and reflexes who wears a dope suit equipped with unbreakable claws would be a huge hit with kids? No, it isn't.
Hasbro has sunk more money into making toys for Black Panther than it has for any of Marvel's other solo outings. Naturally, this bodes well for small black kids who can now benefit from having toys based on superheroes who look like them, and it would surprise no one if the film helps usher in an age where toys modeled after black people will be more commonplace in the United States.
"It's an important movie culturally," said Mark Robben, the marketing director for Funko, a company that is also set to make a killing off of the movie. The film has "translated into people wanting to own a piece of it for their desk or for a t-shirt they're wearing."
While market analysts are keen on breaking down the Black Panther phenomena, it's only fair to point out that the interest toy companies have in the character is likely stemming from dollar signs, and not some pro-representation progressivism. Samantha Knowles, the director of the 2013 documentary Why Do You Have Black Dolls?–which explores the history of racialized marketing in the toy industry–is more inclined to think the interest in more diverse toys is purely monetary. "Toy companies are trying to make a profit. They are driven by what will make them money. But only now do they seem to realize how much money can be made with a more diverse collection of dolls."