Hasan Minhaj's Dad Is Hilariously Unimpressed By His Son's Fame
But, like, one million is a LOT!
by Catherine Santino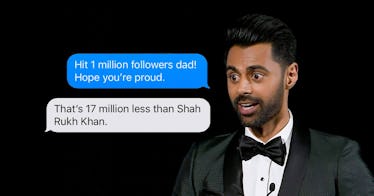 GETTY; Hasan Minhaj/Twitter
Most kids do their best to make their parents proud, and comedian Hasan Minhaj thought for sure that his recent success would impress his folks. After hitting one million followers on Instagram, Minhaj shared the milestone with his dad, who didn't quite have the intended reaction.
The actor, comedian, and creator of the Netflix series Patriot Act shared the hilarious interaction on Twitter. Minhaj took a screenshot of his newly-reached one million follower count on Instagram with the message, "Hit 1 million followers dad! Hope you're proud." His dad's response was nothing short of underwhelmed. "That's 17 million less than Shah Rukh Khan," he wrote. Shah Rukh Khan, in case you're unfamiliar, is a hugely famous Bollywood actor and film producer with a cool 18.1 million followers.
Minhaj tweeted the conversation with the sarcastic caption, "So lucky to have family in my life." The hilarious post prompted fellow Asians to chime in with their own stories of parental disappointment. "Lmao! I know the feeling Hasan," one user replied. "I showed my dad my diploma and said he wished it was from a different school." Another wrote: "Damn, that's the equivalent of you telling a Desi parent you got an A and they respond with 'Why not an A+?'"
Surely, Minhaj's parents are proud of their son's accomplishments, but it would be doing him a disservice to let his fame get to his head, right? After all, as many followers pointed out in the tweet's replies, it's a parent's job to keep their kid humble.
This article was originally published on