The Great Australia Lego Heist is the Plastic Crime of the Century
Honestly? When you think about it, Legos make a pretty smart target.
by Raz Robinson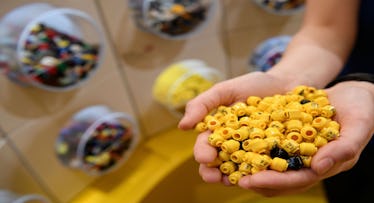 Two Sydney, Australia adults have been taken into custody for stealing — wait for it — 47 Lego sets. A woman, 28, has been charged with three counts of theft, while a man, 48, has been charged with four counts. Both allegedly hit several toy stores the previous day and police arrested at their home in a midnight raid.
Now, while stealing Legos sounds like child's play, it makes some sense. As you, dear parents, are more than likely aware, certain Lego sets can expensive. Just consider some of Lego's Star Wars sets: their Star Wars Super Destroyer sells for $997.97, their Star Wars Death Star goes for more than $500, and one version of their Millenium Falcon goes for $800. The high price, of course, isn't only for sets from a galaxy far, far away. For instance, the Lego Creator Town Hall set sells for nearly $600, while Lego's NASA Apollo Saturn V goes for $140.
Keep in mind, prices of rare sets are much higher on the resale market. Hardcore enthusiasts will often shell out hundreds of dollars for just a handful of crucial pieces. Sufficed to say, if the duo was strategic about which sets they nabbed, they could've ended up with one hell of a brick-based payday.
They aren't the only criminals to consider the value in the toy market. Per a Vice report, five thieves were busted in 2016 for stealing $15,000 worth of Lego sets. In 2014, several people were arrested for stealing a haul of Legos that were valued at a quarter of a million dollars.
The busted Australian Lego thieves have both been released on conditional bail while they await trial. While, of course, there's definitely no condoning their crime, certain parents are surely happy to see that, for once, it was Lego that got robbed and not the other way around.