The Government Just Made it Harder to Foreclose on Millions of Homeowners
Though COVID-19 homeowner protections are growing, the push for a foreclosure moratorium lingers.
by John McCracken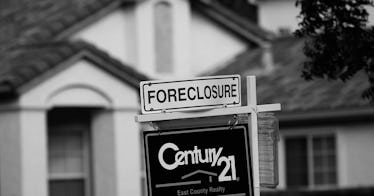 GETTY
Homeowners who are struggling to keep up with monthly mortgage payments because of economic and health fallouts brought on by the COVID-19 pandemic can breathe a brief sigh of relief—only until the end of the month.
The U.S. government prolonged a foreclosure moratorium through July 31 and the Consumer Financial Protection Bureau (CFBP) isn't continuing the moratorium after that point. The CFPB has instead issued a final rule to implement protective measures for homeowners met with challenges to continue their payments.
Here's What to Know About The New Foreclosure Rules
CFPB safeguards will go into effect on August 31, 2021, and affect upwards of 2 million homeowners who are in mortgage forbearance. For borrowers more than 120 days behind on payments, the following guidelines will go into place and must be followed in order to avoid foreclosure.
Start a loss mitigation application. This application outlines the homeowner's income, expenses, number of people in the household and allows homeowners to explain their financial hardship. Once completed, the application must be submitted by the borrower and reviewed by the lender.
Lenders are required to reach and communicate with homeowners before proceeding with a foreclosure. If a lender has not heard from a borrower in the 90 days prior to the forbearance, the process can proceed as long as they've sent a written notice at least 10 but no more than 45 days before foreclosure referral.
If applicable, lenders must confirm that properties are abandoned and adhere to local and state laws before starting foreclosure proceedings.
There are a few exceptions to these rules and their details could make the process easier or unobtainable for homeowners depending on their circumstances.
Those rules are:
A borrower was more than 120 days delinquent prior to March 1, 2020
And all these newly implemented safeguards don't apply If a foreclosure referral occurs on or after January 1, 2022 or the statute of limitations will expire before Jan. 1.
The CFPB Decision Helps — But Threat of Foreclosure Still Looms
While the rule change provides some relief for struggling homeowners, as it stands the CFPB has put the final nail in the foreclosure moratorium coffin. CFPB Acting Director Dave Uejio told CNBC earlier this week "Let me be clear: our final rule does not impose a foreclosure moratorium."
For homeowners not worrying about finances, child care, or job security, the pandemic provided a time of fat pockets and increased wealth upwards of $14 trillion. Homeowners who have struggled to make payments have experienced complications such as refinancing, energy-efficient home improvement scams, and overwhelming regret for their picket-fence purchase.
Homeownership has also seen a stark division among racial lines, much like many systems in the country, due to the pandemic's disparities. A report from the Urban Institute found that 28 percent of Black homeowners did not pay, or deferred payment, of their mortgage in May 2020, compared to only nine percent of white homeowners. The homeownership gap between Black and white families reached record highs during the early onset of the COVID-19 pandemic. All the while, potential homeowners are fighting off swaths of private investment firms and a constantly exploding housing market.
The metro Philadelphia area provides a homeowner microcosm. Digital rental company Roofstock analyzed data from the National Mortgage Database, Zillow Home Value Index, and the U.S. Census Bureau's 2019 American Community Survey and found that Philadelphia was the no. 1 metro with the highest rates of mortgage delinquency.
Philadelphia Legal Assistance provides free civil legal assistance regarding issues such as unemployment, family safety, and housing to low-income residents. The PLA Co-Supervising Attorney for the Consumer Housing Unit Joanne Werdel said new CFPB changes give people the time they need to regain financial stability alongside other family unit costs.
"The extension of the time to request an initial forbearance I think helps to really bridge that gap," Werdel said. Werdel said while the rules extension is a relief, the effects of a foreclosure moratorium can be seen right now.
"Roughly 70% of mortgages on average are currently protected by a (federal) foreclosure moratorium but about 30% are not, so foreclosures are being filed," Werdel said. Werdel urged homeowners who are struggling to reach out to their lender to find out their options and if necessary, search for legal assistance in their area.
"For folks who are struggling to pay their mortgage there is help available," Werdel said. "They should absolutely be requesting a forbearance or requesting other assistance."