Gordon Ramsey's Daughter Rejects Dad's Cooking In Hilarious Viral Video
The celebrity chef's daughter apparently prefers her mom's cooking.
by Isabella Bridie DeLeo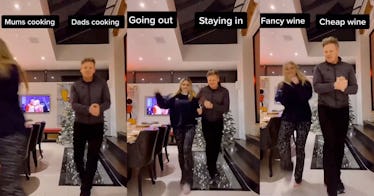 gordonramsayofficial/tiktok
One of the latest trends to pop up on TikTok is the "This or That" challenge. To the tune of RUN DMC's "It's Tricky," the trend has celebrities and kids on the social media app joking about their preferences for various things, from going out to staying in, to dressing up or down, and pretty much everything in between. Now, Gordon Ramsay is joining in on the viral trend alongside his 19-year-old daughter, Matilda, nicknamed Tilly, who's also a chef and host of the cooking show, "Matilda and the Ramsay Bunch."And it's delightful to get to see the typically more wry and critical chef do some lighthearted father-daughter bonding.
In the video, the pair dance in their living room, with a gleaming Christmas tree in the corner, and joke about their apparently quite different tastes in food. The trend basically means that there will be two choices on the screen, and the people playing just having to walk or dance to the side with their preference.
From it, we learn that Gordon prefers spicy while Tilly likes the plainer variety; Tilly surprisingly roasts her dad, saying that she likes mum's cooking more than dad's; the father and daughter both like going out more than staying in; Gordon (of course) prefers expensive wine whereas Tilly likes cheaper, more bang-for-your-buck bottles, and they both admit to being "high maintenance" over "low maintenance." At least they're honest!
The funny video seems like a more playful addition to Gordon's TikTok page, which features lots of videos critiquing other viral trends, or occasionally even admiring some, like one video where he compliments someone for cooking an entire gourmet meal from scratch in a hotel room, using a heating iron to cook the meat and a coffee pot for eggs.
Tilly's TikTok, on the other hand, largely gives viewers a glimpse into what appears to be their strong father-daughter relationship, where the two often do viral dance videos and other trends. Gordon may be a celebrity chef, but it's clear that he dances just as well as any dad, which is to say, not that great! But hey, they're both having fun, and we're having fun watching.
Check out the hilarious video below.