This Mom Created A New 'Goodnight Moon' Book Called 'Good Morning Zoom'
It's meant to help kids understand what the hell is happening right now.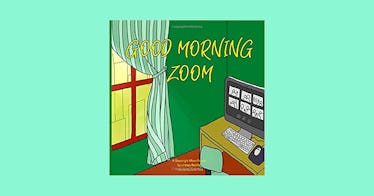 Goodnight Moon, but for kids unlucky enough to be going through the COVID-19 pandemic is the idea behind Good Morning Zoom, a new children's book that's billed as a "parody" of the Margaret Wise Brown classic. It's described as a "lyrical portrayal of life during the coronavirus" designed to help kids understand just what the hell is happening.
The cover replaces the roaring fireplace of the original with a computer displaying an active Zoom call, a checkerboard of socially isolated faces on a screen with a yellow cityscape casting light in through the window. The book touches on the isolation kids are feeling while stuck in quarantine with their parents, many of whom are working from home, and the deeply weird experience of only being able to see friends and family on screens.
The author, Lindsay Rechler, is a managing director at an investment bank who, in her words, "spent sleepless nights trying to come up with ways to explain to my children why their world was turned upside down."
"Why are hugs, playdates, and trips to the park being replaced by technology? Why are we staying home?" These are weighty questions parents across the world are struggling to answer, so Rechler decided to write a children's book with a title quite similar to a James Corden sketch.
She found an illustrator, June Park, and ultimately published the 24-page book independently, a worthy project on its face made even better by the fact that the proceeds are being split between STRIVE, No Kid Hungry, and Project C.U.R.E., three non-profit organizations contributing to the fight against COVID-19.
If you'd like to support these organizations and snag a super-topical kids' book, Good Morning Zoom is available in both paperback and Kindle versions on Amazon.