Girl Scouts Accuses Boy Scouts Of Being Unfair in Legal Battle
They say underhanded recruiting tactics set off an "explosion of confusion."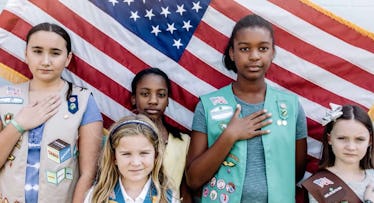 Youtube Girl Scouts of the USA
The Boy Scouts of America finally opened its ranks to girls in 2018, a move that felt less like a magnanimous move to let girls pursue the coveted rank of Eagle Scout and more like a way to boost dwindling membership numbers. A natural competition with the Girl Scouts for new female members developed, as both organizations were competing for the same scouting-curious kids. The Girl Scouts claim in a lawsuit that the competition is so fierce that the Boy Scouts have resorted to underhanded tactics.
The suit was filed in 2018, and the Boy Scouts naturally asked a judge to dismiss the case. That prompted the Girl Scouts to file new documents on Christmas Eve detailing their allegations.
The Girl Scouts call the Boy Scouts' recruiting tactics "extraordinary and highly damaging to Girl Scouts" because they set off an "explosion of confusion."
"As a result of Boy Scouts' infringement, parents have mistakenly enrolled their daughters in Boy Scouts thinking it was Girl Scouts," the lawyers said, adding that this never occurred before 2018.
The Girl Scouts cite "rampant instances of confusion and mistaken instances of association between Boy Scouts and Girl Scouts," but the Boy Scouts claim that such incidents are isolated, though it does appear they've happened in chapters around the country.
The use of targeted advertising using terms like "Scout, Scouts, Scouting, Scout Me In and Scouts BSA" amounts to intellectual property theft.
"Boy Scouts knew for decades that the use by it of terms like scouts or scouting would be confusing unless it clearly identified the sponsor of services offered under those marks, but it went ahead and used these terms anyway," Thursday's filing read. "The rampant confusion and damage to the Girl Scouts brand was the predicted, and intended, result."
"To imply that confusion is a prevailing reason for their choice is not only inaccurate – with no legally admissible instance of this offered to date in the case – but it is also dismissive of the decisions of more than 120,000 girls and young women who have joined Cub Scouts or Scouts BSA since the programs became available to them," the BSA told CBS News.
This article was originally published on