A Bunch of G.I. Joe Cartoons From the '80s Just Hit YouTube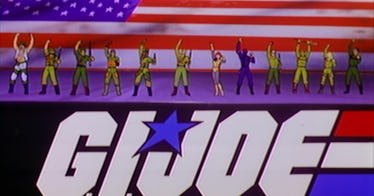 Hasbro
If you're looking for something new to stream and you have a thing for quasi-propagandist cartoons based on action figures produced near the end of the Cold War, then boy have we got some good news for you.
Hasbro uploaded 15 episodes of G.I. Joe: A Real American Hero to YouTube, free of charge. It's most interesting to adults as a relic of the '80s, but it's still a pretty entertaining cartoon for kids, the kind of thing you can imagine latchkey kids across the country switching on when they arrived home from school.
Ninety-five episodes of the show were produced between 1983 and 1986, and a 44-episode revival came around just three years later. But so far, just 15 have made it to Hasbro's YouTube channel. And while we're not complaining (they're free, after all), it would also be nice for more episodes to regularly make it online, at least until it's safe to leave the house.
Three five-episode miniseries are available at the moment. "The M.A.S.S. Devices" contains the first episodes of the show ever broadcasted. They tell a vaguely James Bond-esque story of G.I. Joe's race to build a weaponized satellite to rival the weaponized satellite Cobra (i.e. the bad guys) is planning to use to destroy New York City.
"The Revenge of Cobra" aired a year later, and it's completely different; it centers on gathering the pieces of a device that controls the weather, not a deadly satellite. Repeated story concerns aside, this one culminates in an episode calls "Amusement Park of Terror," and who doesn't want to watch that?
"The Pyramid of Darkness" aired — you guessed it — one year later. This time its a space station that the two sides struggle over, the key piece to Cobra's plan to deprive the world of electricity.
G.I. Joe isn't a bad way to spend about 340 minutes of quarantine, and not just because you don't have to pay for it. Kids get an action-packed cartoon and adults get the amusement of watching something nostalgic and ridiculous. What's not to love?
G.I. Joe: A Real American Hero is available to stream on YouTube now.