Daenerys Actress Loves 'Game of Thrones' Backlash For a Surprising Reason
What's up Thrones haters, Emilia Clarke has some thoughts on the outrage.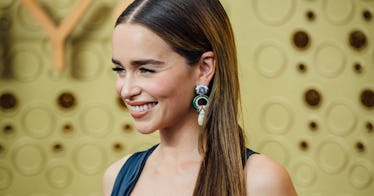 GETTY
It's been a matter of months since Sunday nights were appointment viewing for Game of Thrones, since the end of the final season of a show that many thought fell short of the heights the previous seven. Criticisms about pacing and story logic were so potent that they inspired a petition signed by over 1.7 million people.
Emilia Clarke, who played Daenerys Targaryen for the entire run of the show, doesn't give a shit.
At the Emmys last night, Clarke was asked if she was bothered by the often lukewarm or negative reactions to how Thrones ended. She was not. Not even a little bit.
"You know what? It was profoundly flattering is what it was because when someone cares that much that they're ready to make such a noise about how they believe the characters should've been finished and how the story should've gone. That's just enormously flattering. That just shows how much everybody loved it."
She is, of course, correct: people don't get worked up about things they don't care about. And it's not Emilia Clarke's—or anyone else's job—to answer criticisms of a commercial entertainment product.
Clarke's words echoed those of HBO's programming chief, who similarly took the opportunity to pat himself on the back for Thrones's success while brushing aside the (in our opinion, often legitimate) criticisms of the final season.
HBO is busy prepping a slew of spin-offs in an effort to recapture and retain the audience it built with Thrones. Here's hoping that when those shows end that the creatives who make them and the fans who watch them are equally pleased with the final product.