This Funko Pop Australian Firefighter Figurine Will Help Australian Wildlife
If you're looking for a neat toy and a small way to help Australian wildlife, this is it.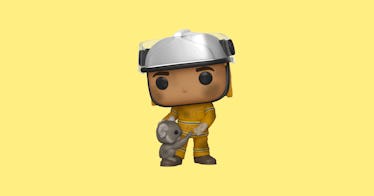 Popcultcha
There's no shortage of Funko Pop! versions of superheroes, with everyone from Black Widow to The Thing represented among the 2,245 "hero" entries in the company's catalog. But its latest figurine isn't a Marvel or DC character; it's meant to honor a real-life group of heroes.
Firefighters in Australia have been fighting cataclysmic wildfires for months, and multiple firefighters are among the 34 people whose lives have been lost. The special edition Funko Pop! figurine, "Bushfire Heroes," puts their standard uniform—a white helmet with face shield, yellow uniform with reflective strips, white gloves, and brown boots—onto the company's signature large-headed, wide-eyed figurine. There's even a koala climbing up the doll's leg to complete the look.
The new figurine is available exclusively at Popcultcha, an Australian purveyor of pop culture memorabilia and toys. It's currently available for pre-order for about ten American dollars (though shipping to the U.S. will cost extra).
Proceeds from the figurine will go to the Royal Society for the Prevention of Cruelty to Animals' National Bushfire Appeal, which funds the protection of animals in areas threatened or affected by the fires. That mandate covers everything from evacuating wildlife in harm's way to providing veterinary care to injured animals found in cleared fire zones.
"The RSPCA are working alongside government and emergency agencies, veterinarians and local authorities to provide much needed equipment and supplies, emergency care and identifying and assessing injured animals in need of assistance," the company said in a statement announcing the new figurine.
So whether it would be the first Funko Pop! you've ever bought or the latest addition to a large collection, getting your hands on this figurine is a nice way to make a small contribution to the recovery of the country and its ecosystem.
And if you're not particularly interested in the figurine but still want to help, you can donate directly tot he RSPCA here.
This article was originally published on