Viral Clip of Mister Rogers Accepting Emmy Award Resurfaces on TikTok
A clip of Rogers accepting the 1997 Lifetime Achievement Emmy went viral on the platform.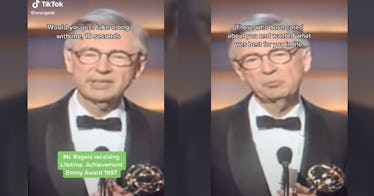 The Emmy Awards, via revngeek/tiktok
At the 1997 Emmy Awards, Tim Robbins introduced Fred Rogers as "the best neighbor any of us has ever had." That hasn't changed in the 24 years that have elapsed since that night, when Rogers took home a lifetime achievement award. In fact, the recent virality of a clip from that speech proves once again that his philosophy of compassion and appreciation remains resonant.
TikTok users RevnGeek and Monica Joelleo posted the video in response to a question asking which awards show moment "lives in your head rent-free." The Emmy Award moment was clearly one for that TikTok user.
"Would you just take, along with me, ten seconds to think of the people who have helped you become who you are, those who have cared about you and wanted what was best for you in life?" Mr. Rogers says to open the clip. "Ten seconds of silence. I'll watch the time."
Close-ups on actresses in the audience holding back tears or smiling follow. At the end of the ten seconds, Rogers says "Whomever you have been thinking about, how pleased they must be to know the difference you feel they've made."
Aside from the perfect fact that Rogers knows when to use "whomever" instead of "whoever," the clip is delightful because it showcases Mr. Rogers's unique ability to deliver a message of gratitude in a way that isn't at all hokey, and to think of others when he is being honored for his own work. He was such a special human being, and so deeply generous and honest with others. In this clip, all of the reasons you love Mister Rogers come through. It's almost like he's teaching an audience of children, or rather, the children in our hearts. And the fact that he used a Hollywood award show, an ego-driven affair if there ever was one, to practice showing gratitude for others and to bring us along for the ride shows just why he deserved the honor in the first place.