For the Love of God, Stop Letting Your Kid Eat Cookie Dough
Just say "no" to the dough.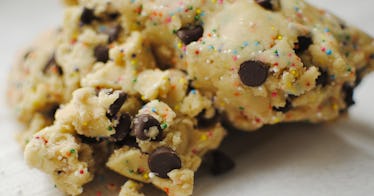 It is a widely accepted truth that the only thing more delicious than a cookie is a cookie before it's baked. While no one is arguing that, there continues to be substantial evidence that consuming raw cookie dough is dangerous. Before you start rolling your eyes, it's not just raw egg that's potentially harmful; raw flour is also a major culprit.
Last week, two major brands issued flour recalls due to E. coli contamination. Pillsbury recalled 4,620 cases of Pillsbury Best 5-pound Bread Flour, distributed in Connecticut, Delaware, Maryland, Maine, New Hampshire, New Jersey, New York, Ohio, Pennsylvania, and Virginia. One day earlier, King Arthur Flour recalled 14,218 cases of 5 lb. Unbleached All-Purpose Flour distributed nationwide. Both products were manufactured at ADM Milling Co. in Buffalo, New York.
Unsurprisingly, E. coli poisoning is zero fun – it can cause nausea, vomiting, diarrhea, and other wildly unpleasant symptoms. But in children (and the elderly), Hemolytic Uremic Syndrome (HUS), a potentially fatal form of kidney failure, can arise. This definitely isn't the first time we've been warned; the Center for Disease Control (CDC) has been preaching the dangers of raw cookie dough for years.
Still, many parents choose to disregard this message, probably because of reasoning such as "I ate it as a kid, and I turned out fine!" But in reality, the salmonella from raw eggs and E. coli from raw flour can cause serious health issues that are definitely not worth the 5 seconds of bliss you get from eating a spoonful of dough.
To keep kids safe, the CDC instructs parents to always bake cookies according to the package directions and always keep flour out of kids' crafts. If you really must have your cookie dough fix, try this recipe for edible cookie dough.
This article was originally published on