Massachusetts Is the First State to Require the Flu Shot for All Students
And it sure looks like it won't be the last.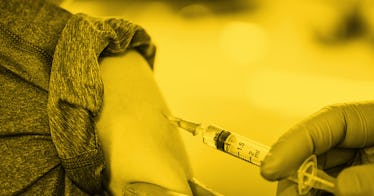 Flu shots aren't part of the battery of vaccinations traditionally required by schools of their students, but that's gradually changing. The fear of a "twindemic" — a spike in COVID-19 cases and a bad flu season — is prompting some state officials to at least consider requiring the influenza vaccine for kids in school.
Last month, Massachusetts became the first state to go through with it. A flu vaccine is now required for students to enroll in child care, pre-school, K-12 schools, and colleges and universities. Young Bay Staters who don't get the vaccine by the end of this year will not be allowed to return to school, though religious and medical exemptions are allowed.
Lawmakers in New Jersey and public health officials in Vermont are considering similar mandates. Younger children in New York City, Rhode Island, and Connecticut are already required to receive a flu shot before enrolling in many child care programs.
The rationale behind adding the flu shot to the list of required vaccines is multifaceted.
"It is more important now than ever to get a flu vaccine because flu symptoms are very similar to those of COVID-19 and preventing the flu will save lives and preserve healthcare resources," said Dr. Larry Madoff of the Massachusetts Department of Public Health. In other words, the already strained healthcare system will work better if it's not slammed with a ton of flu patients who, because their symptoms are so similar to COVID-19, will need the extra precautions and resources that COVID-19 patients receive.
There's also the fact that even those who've recovered from COVID-19 might have weakened immune and/or respiratory systems and be more susceptible to contracting influenza than they might be otherwise.
In normal times, there's not a good reason for the vast majority of people to not get the flu shot. In the middle of a pandemic, there's even less of a reason, so it's encouraging to see states act to ensure that more people get a safe and effective vaccine.
This article was originally published on