In Florida, Professional Wrestlers Are Just as Essential as Doctors
The WWE resumed live broadcasts from Orlando after it secured an exception to the Governor's stay-at-home order.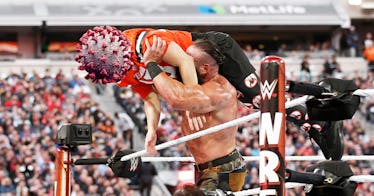 Getty
In Florida, professional wrestlers have joined the ranks of healthcare workers treating COVID-19 patients, sanitation workers keeping cities clean, and grocery store workers making sure folks can still buy food. WWE performers and production staff are now classified as essential like this actually essential workers in the Sunshine State. What the hell?
The change happened last Thursday, when a memorandum from Florida's emergency management director added three new categories to the list of "essential services" in Gov. Ron DeSantis's initial stay-at-home executive order, which took effect April 3.
Urgent counseling (with appropriate social distancing) and the maintenance of theme parks, zoos, and aquariums (that must be closed to the public) make sense, and it doesn't take much of a leap to see why these jobs should be added to the list.
However, "professional sports and media production with a national audience" is a baffling addition, even with the stipulation that such productions stay closed to the general public. A product that's produced purely for entertainment doesn't make much sense next to industries that provide for physical and safety needs.
To be fair, this language might also allow Florida's professional sports teams to resume play, but that isn't happening without the cooperation of leagues and teams around the country. And if it did, it would be just as absurd as staging professional wrestling.
The WWE, which confirmed its first positive case of coronavirus in a non-wrestling, on-screen performer yesterday, the same day it resumed live broadcasts of WWE shows with WWE Raw from the Orlando facility. NXT and SmackDown are scheduled for Wednesday and Friday, respectively.
Professional wrestling requires physical contact between people, some of whom were almost certainly in close proximity to the WWE employee who had the confirmed case. COVID-19 is highly infectious, and it's been spread by asymptomatic people who had no reason to suspect that they had the disease.
For its part, WWE released a statement promising that it's "following appropriate guidelines while taking additional precautions" in providing a diversion to its audience.
"As a brand that has been woven into the fabric of society," the statement hyperbolically continues, "WWE and its Superstars bring families together and deliver a sense of hope, determination and perseverance."
Despite that lofty language, it's still hard to rationalize risking the health of anyone for a diversion, particularly when there is no shortage of other diversions.
Floridians don't make money off of those diversions, however, and it's likely that DeSantis, who resisted calls to issue a stay-at-home order for weeks before relenting, shares his political ally President Trump's concern that a tanking economy spells political disaster.
It's hard to see allowing the WWE to resume productions as anything but a calculated risk, a bet that the benefits of resuming this kind of high-profile (but, let's face it, non-essential) economic activity is worth risking the lives of those Floridians — the WWE employees called into work and anyone they interact with in their communities — who will be at greater risk as a result.