Two People Tried to Snag a COVID Vaccine By Cosplaying as Grandmas
Their plans were foiled when a vaccination worker checked their ID's.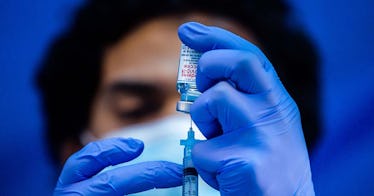 Getty
Two Florida women received trespassing warnings on Wednesday after they dressed up as elderly women and attempted to get the second shot of the COVID-19 vaccine from a vaccination site in Orange County, which includes Orlando.
"Yesterday, we realized a couple of young ladies came dressed up as grannies to get vaccinated for the second time," Dr. Raul Pino, the director of the Florida Department of Health in Orange County, said during a press briefing Thursday. "So I don't know how they escaped the first time."
The "grannies" were actually Olga Monroy-Ramirez, 44, and Martha Vivian Monroy, 34. They are not eligible for the vaccine in Florida at the moment, as they are not (actually) elderly, don't work in healthcare or long-term care, and aren't "extremely vulnerable" to COVID-19.
The two did have vaccine cards from receiving dose number one with their real names and false dates of birth. It's unknown how they got the first dose, but this time a staffer at the vaccination site noticed the discrepancy when they presented their driver's licenses and alerted the authorities.
Just last month, Florida started requiring proof of residency to get a vaccine after concerns about "vaccine tourism" when it extended eligibility to everyone 65 and older. In the wake of this incident, Orange County is increasing security at the vaccination site.
"This is the hottest commodity that is out there right now," Pino said. "We have to be very careful with the funds and the resources that we are provided."
Around 45 percent of the eligible population has been vaccinated in Orange County. Florida has administered just over 3.8 million COVID-19 vaccine doses according to the CDC.
This article was originally published on