The Financial Crisis Is Still Hurting Middle Class Families
Historically low unemployment didn't prevent nearly 40 percent of Americans from facing a significant material hardship last year.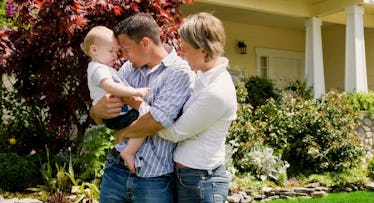 The past decade of economic recovery looks pretty great at first glance. Unemployment is at its lowest rate in 50 years, and economic growth and the stock market have both been rising in the decade since the crash. But beneath those indicators, huge numbers of Americans still struggle to meet their family's basic needs.
This is according to a study from the Urban Institute, a nonprofit research organization. It found that forty percent of non-elderly Americans struggle to pay for basic needs like food and housing. Even families squarely in the middle class occasionally face these struggles, what the organization terms "material hardship."
The study was based on data gathered through a nationally representative, internet-based survey launched annually in December with a sample size of over 7,500 adults each year.
For so many to face these difficulties in what's otherwise a healthy economy is alarming, but the study also reveals that things don't seem to be getting much better. In a host of indicators measured in 2017 and 2018, not much seems to be changing.
The share of adults 18 to 64 reporting specific difficulties in rent or mortgage costs (9.3 percent), food insecurity (23.1 percent), and going without medical care (17.8 percent) did not change in a statistically significant manner.
The overall share of such adults being unable to pay their utilities or having their utilities shut off did fall in a small but statistically significant way, as did the percentage who had problems paying medical bills. But the fact that more than half of low-income adults are paying over 30 percent of their monthly income toward housing costs means that their ability to pay for other expenses will continue to be constrained.
The larger conclusion of the study is that "though employment is a critical determinant of families' ability to meet basic needs, it is not the only factor, and additional policies will be necessary to significantly 'move the needle' in reducing material hardship."
Among their policy recommendations, the authors of this study point to increasing access to safety net programs as a proven way to "mitigate hardship among vulnerable individuals and families."
States that are considering or have implemented obstacles to access such benefits programs, such as Maine with its new work requirement for food stamp recipients, are moving in the opposite direction.
And because 47.8 percent of low-income adults are not confident they could get $400 in an emergency, the study also recommends policies that help low-income families save and build assets.
There's simply not much else to do. With not much room to grow the employment rate, helping families meet basic needs "will likely depend on approaches to raise and stabilize incomes, offset the cost of essential expenses, and provide a buffer against adverse financial shocks."
This article was originally published on