Finally! Breakfast Cereal That Contains…Caffeine?
Eat it while your kid is still asleep.
by Isabella Bridie DeLeo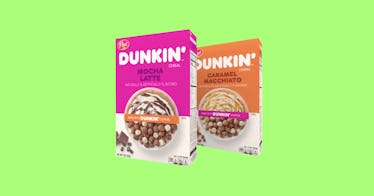 America runs on…caffeinated cereal? If actually taking the time to make a cup of joe feels like a little too much some mornings (hey, we get it), Dunkin' is trying to fill a niche we weren't aware anyone actually wanted: cereal with coffee in it. Whether it tastes good or is just a viral marketing scheme (remember the Chips Ahoy! cookies with Sour Patch Kids in them that came out a few weeks ago?), only time will tell, but for better or for worse Dunkin' just released coffee-flavored cereal. So if you want to eat your caffeine, this might be for you. Dunkin' collaborated with Post to create two cereal flavors, Caramel Macchiato and Mocha Latte. How much like coffee do they actually taste like, you ask? Apparently the Mocha Latte flavor has chocolate cereal bits with latte-flavored marshmallows and the Caramel Macchiato serves up supposedly lightly spiced cereal with caramel-flavored marshmallows. Both are meant to replicate the uh, layers, of the coffee drinks. "Getting the flavor right on our new cereals was a top priority, and we think we've nailed the rich, smooth and creamy taste," Josh Jans, Brand Manager of Cereal Partnerships at Post Consumer Brands, wrote in a press release, as per People.
But what about the caffeine? Can you actually skip the coffee and just eat a bowl of sugary, caffeinated cereal instead? Probably not. Apparently the cereal has only about one tenth of the caffeine as a cup of coffee, so any jittery buzz you get from consuming it is probably due to the sugar. But on the flip side, that also means that your kids might be prone to stealing and eating the cereal you try so hard to hide from their reach. Look, parents are exhausted right now, and maybe caffeine-dipped cereal will make stressful mornings a bit easier? Or maybe you'll just eat a bowl of cereal in secret standing in front of the fridge at midnight? Either way, it probably tastes at least kinda good.