FFCRA Paid Family and Sick Leave Is About to Expire. Take It
The FFCRA created new protections for workers affected by COVID-19 directly and indirectly. Here's what you need to know.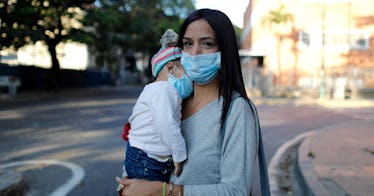 GETTY
It's not as flashy as $1,200 arriving in your bank account, but the protections afforded by the Families First Coronavirus Relief Act (FFCRA) are arguably even more important. The second piece of coronavirus legislation that was signed into law created new rights to paid sick leave and family medical leave and made coronavirus testing free to individuals, among other provisions.
The Department of Labor created a printable Families First Coronavirus Relief Act poster that summarizes the workplace provisions of the law, but on the off chance you haven't been to your workplace since, oh, March, you might not know your rights. Here's what the law says about what workers are entitled to during the pandemic.
Where do you have to work to be eligible for paid leave under the FFCRA?
Private employers with fewer than 500 employees and certain public employers are required to provide up to two weeks of paid sick leave for their workers. Healthcare providers and emergency responders do not receive these protections.
Which workers are eligible for paid sick leave?
Eligible workers are those subject to a COVID-19 quarantine or isolation order, those who've been advised by a health care provider to self-quarantine because of COVID-19, and those who have symptoms and are seeking a medical diagnosis.
How much is the sick leave stipulated by the FFCRA?
The amount these workers receive is based on 80 hours of pay for full-time workers or the two-week equivalent for part-time workers. It is capped at $511 per day and $5,110 in total.
Which workers are eligible for paid family leave?
Employees who have to miss work to care for someone subject to a COVID-19 quarantine or isolation order are eligible for 2/3 of their normal pay. The cap here is even lower, up to $200 daily and $2,000 total.
Employees who are out of work to care for a kid whose school or child care center is closed due to COVID-19 can receive up to 12 weeks of paid sick leave and expanded family and medical leave paid at 2/3 of the normal rate, up to $200 a day and $12,000 in total. The first ten days can, however, be unpaid.
And if an employee has already taken 12 weeks of leave under the Family and Medical Leave Act in the previous year, they are only eligible for two weeks of Emergency Paid Sick leave.
When do these rules expire?
Barring congressional action to extend the law as the pandemic worsens around the country, the additional paid leave provided for by the FFCRA expires on December 31, 2020.
If you feel that you have not been afforded these rights, you can call the Department of Labor Wage and Hour Division at 1-855-487-9243 or go to dol.gov/agencies/whd.
This article was originally published on