5 Ways Federally Legalizing Marijuana Would Keep Kids Safe and Help Families
Legalizing marijuana is good for society, and the law that could do it has plenty for even nervous parents to like.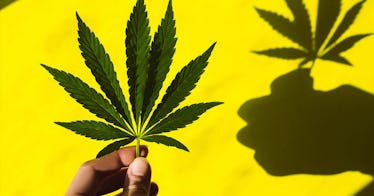 Senators Chuck Schumer, Ron Wyden, and Cory Brooker unveiled a law that would end the 51-year-old federal prohibition on cannabis. The Cannabis Administration and Opportunity Act would also establish a raft of new rules regulating cannabis sales and consumption at the federal level.
"The War on Drugs has too often been a war on people, and particularly people of color. Not only will this legislation remove cannabis from the federal list of controlled substances, but it will also help fix our criminal justice system, ensure restorative justice, protect public health, and implement responsible taxes and regulations," Sen. Schumer said in a statement.
The larger benefits of ending the prohibition of a drug now ludicrously listed as having "no currently accepted medical use in the United States, a lack of accepted safety for use under medical supervision, and a high potential for abuse" are obvious to anyone who knows about the racist reality of the war on drugs and recognizes the fact that states have been legalizing the substance for years. Still, many parents will likely feel uneasy about legalized marijuana, but this legislation, full of has protections for kids and families, justice that will bring families torn apart by the war on drugs back together, and regulations for marijuana will actually make the drug safer in the long term. And while things can change—the trio of senators is asking for input on the proposal by September 1 before they write the final bill—it's overwhelmingly likely that some version of each of these provisions makes it into the final draft.
Keeping Marijuana, and Edibles, Away from Kids
A new Center for Cannabis Products within the FDA would regulate all cannabis products that don't make medical claims, which would be regulated as drugs by existing FDA bodies. Among the responsibilities of this new office would be issuing regulations preventing the sale and distribution of cannabis products to individuals under the age of 21 and banning flavored electronic cannabis product delivery systems that, similar to flavored Juul pods, are thought to hold particular appeal for young people.
The FDA and the Tobacco Taxation Board, which is part of the Treasure Department, would be empowered to regulate the labeling and marketing of cannabis products, areas currently under a confusing patchwork of state laws. They could implement restrictions on the marketing of cannabis to kids and ensure that the labeling of cannabis products, including edibles that can appear very similar to non-THC-laced goodies, clearly warns the consumer that the product is not safe or legal for kids.
Medical Research
Cannabis is approved for medical use in states across the country, but what we actually know about its effect on the human body is minimal thanks to the prohibition on scientific studies using the drug. This law would allow scientists to research the potential medical uses of cannabis in a way that prohibition hasn't allowed them to in the past, opening the door for a better understanding of its effects on the human body and new medical applications that could benefit your kids (and you!) in years to come.
Impaired Driving Rules
If this law passes, the Departments of Transportation and Health and Human Services would be tasked with collecting data on cannabis-impaired driving and developing an impairment standard for driving under the influence of cannabis. The CDC, which is part of HHS, would develop public health education materials and prevention strategies to discourage cannabis-impaired driving, hopefully making the roads safer for everyone in the way that drunk driving enforcement and education campaigns have.
Restorative Justice
Also included in the legislation are robust restorative justice measures "seeking to redress past harm and create opportunity for the future" by expunging federal non-violent cannabis convictions, preventing such convictions from affecting immigration decisions, and creating new grant programs to fund nonprofits that provide services to those adversely impacted by the War on Drugs.
Practically, it would make it easier (or simply possible) for people who have cannabis-related convictions to secure jobs and public housing. And since those people are disproportionately likely to be black and brown, this law would amount to an overdue step forward for racial justice, and in particular, for families who have been separated for decades by an ill-advised war on drugs.
Excise Taxes
Excise taxes like those levied on alcohol and tobacco would also apply to cannabis if this legislation is passed. The proposed structure would start at 10 percent in the first year, increasing by five percent until it reaches 25 percent in year 4. The Treasury Secretary would set a rate in the years after. Importantly, the rate on the first $20 million in sales for any cannabis producer is half of these rates, an effort to ensure that small businesses aren't taxed out of the market. Similar taxes at the state level have meant big revenues for schools, and the current draft promises using that money to aid communities harmed by the War on Drugs and for public health and safety research.