The FDA is Recalling Birth Control Pills Due to Packaging Error
Here's what you need to know.
by Amanda Tarlton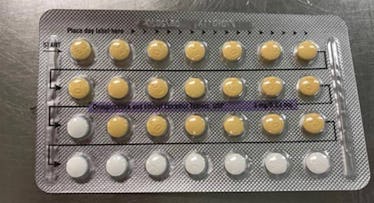 FDA
On Monday, the U.S. Food and Drug Administration (FDA) issued a recall of birth control, warning that a packaging error could result in unwanted pregnancy. The recall is for packets of Drospirenone and Ethinyl Estradiol Tablets produced by Apotex Corp, which may contain the wrong type or number of pills.
"As a result of this packaging error, where a patient does not take a tablet due to a missing tablet or that a patient takes a placebo instead of an active tablet, loss of efficacy is possible due to variation in the dosage consumed," the FDA wrote in its statement. The agency added that there have not yet been any reported pregnancies or adverse reactions due to the mistake.
The recall applies to the estrogen/progestin oral contraceptive that's sold in a packet of 28 tablets, with 21 yellow pills followed by seven white placebo pills.
The four lots that are being recalled are numbers 7DY008A, 7DY009A, 7DY010A, and 7DY011A and each have an expiration date of August 2020. On the inner carton, the NDC number is 60505-4183-1 and on the outer carton, the number is 60505-4183-3.
A representative from the pharmaceutical company told RedTri, "Apotex is committed to product quality and patient safety and takes all steps necessary to protect patients who use our products. Thus, this voluntary recall was initiated out of an abundance of caution."
Anyone who received one of the affected packets should immediately return the pills to the pharmacy where they were purchased and contact their healthcare provider with any concerns. The FDA also advises women to "not interrupt their therapy" and instead "use a non-hormonal method of birth control."
For questions regarding the recall, consumers can also contact Apotex by phone at 1-800-706-5575 Monday through Friday or by email at UScustomerservice@Apotex.com.
This article was originally published on