Hooray! An FDA Panel Just Recommended the Pfizer Vaccine For Kids 5-11. What's Next?
Younger kids could be able to get vaccinated by next week.
by Ethan Freedman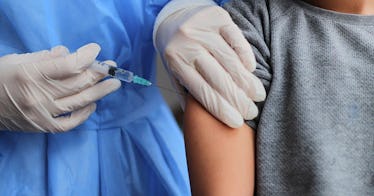 Update: On Friday, October 29, 2021, the FDA officially authorized the Pfizer vaccine in kids aged 5-11. The CDC will meet on November 2nd to decide whether to then recommend the use of the vaccine in American kids. If they do, the vaccine will then be able to be distributed to kids.
An advisory panel of experts to the federal Food and Drug Administration voted on Tuesday to recommend the Pfizer-BioNTech vaccine against COVID-19 for children aged 5-11. If the vaccine receives authorization and recommendation after that vote, younger kids could begin getting vaccinated next week, STAT reports. After this meeting, the FDA is likely to issue an emergency use authorization for the Pfizer-BioNTech vaccine in the next few days, with the CDC likely to issue guidelines by next week. That means kids could start getting their doses of vaccines well before Thanksgiving.
In a trial of over 2,000 kids between the ages of 5 and 11, the vaccine was 90.7% effective in preventing symptomatic COVID-19, according to data provided to the FDA by the drug companies. The kids in question were given two doses, each 1/3 the strength of the standard adult dose, three weeks apart. The company data also notes that much of this trial took place during the recent Delta variant wave, indicating that the vaccine is effective against that more infectious strain.
The CDC reports that the Pfizer-BioNTech vaccination against COVID-19 is safe and effective in people aged 12 and older. Last week, the FDA released a report noting that the potential benefits of vaccination against COVID-19 in kids aged 5-11 "clearly outweigh the risks," from rare side effects such as myocarditis, The New York Times reports. An increased risk of myocarditis, a type of heart inflammation, has been associated with the Pfizer-BioNTech and Moderna vaccines. But these cases usually occur within a few days after being vaccinated, and as of this August, only 327 cases and zero deaths had been reported among the over 17 million doses of the Pfizer-BioNTech vaccine given to people aged 16-29.
During the advisory panel meeting, CDC COVID-19 Response Team member Dr. Fiona Havers discussed how the coronavirus has impacted children. While most of the worst-case scenarios occur among older adults, US children have been infected, hospitalized, and died as a result of COVID-19. Between January 2020 and October 16, 2021, 94 kids aged 5 – 11 died of the coronavirus, Dr. Havers reported — 1.7% of all deaths in that age group during that period. She noted that this would likely place COVID-19 as one of the top 10 causes of death among kids that age.
Infected children have also been shown to transmit the virus to both other kids and adults, Dr. Havers said. In adults, research has shown that while the vaccine does not eliminate the chances of transmission, it does likely lower the chance that someone will transmit the disease, according to New Scientist.
If that holds true for children, getting these younger kids vaccinated would be a key step toward maintaining low levels of virus in our communities. This vaccine is already fully approved for everyone aged 18 and older and approved on an emergency use basis for kids aged 12 and up.
This article was originally published on