FDA Authorizes Pfizer Vaccine for Kids 12-15 Years Old. This Group of Kids is Next
Here's what parents need to know.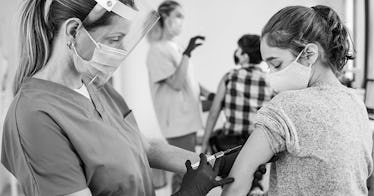 Children aged 12 to 15 years old will now be eligible to receive the Pfizer-BioNTech COVID-19 vaccine after the FDA expanded its emergency use authorization on May 10, Monday night. The move wasn't exactly a surprise—it's been rumored for months—and comes as welcome news for parents eager to get their kids a COVID vaccine as schools reopen around the country—and summer camp looms.
"The FDA's expansion of the emergency use authorization for the Pfizer-BioNTech COVID-19 Vaccine to include adolescents 12 through 15 years of age is a significant step in the fight against the COVID-19 pandemic," said acting FDA commissioner Dr. Janet Woodcock. "Today's action allows for a younger population to be protected from COVID-19, bringing us closer to returning to a sense of normalcy and to ending the pandemic. Parents and guardians can rest assured that the agency undertook a rigorous and thorough review of all available data, as we have with all of our COVID-19 vaccine emergency use authorizations."
Here's everything you need to know about the news.
Update: As of May 12th, the CDC also approved, and recommended, the use of the Pfizer-BioNTech COVID-19 vaccine in 12-15-year-olds. Kids 12+ in every state across the country can now get vaccinated with the Pfizer vaccine.
What evidence did the FDA use to make this decision?
While younger people generally have a milder COVID-19 disease course than adults do, approximately 1.5 million 11-17 year-olds contracted COVID-19 between March 1, 2020, and April 30, 2021. That was enough motivation to consider expanding emergency authorization for the vaccine instead of the slower standard vaccine approval process.
To grant this approval, the FDA needed to determine that the vaccine was both safe and effective.
The FDA cited a trial of 2,260 12- to 15-year-old participants in its justification for the change. Half of those participants received the Pfizer vaccine while the other half received a placebo. Side effects were similar in both kind and duration to those commonly reported by vaccine recipients 16 and older. That data showed that the vaccine was safe, and effective in preventing COVID in children.
In a separate analysis, zero cases of COVID-19 were found in 1,005 vaccine recipients while 16 cases were found in 978 placebo recipients.
Is the vaccine kids receive different from the adult version?
No. The Pfizer vaccine now approved for 12- to 15-year-olds is the same one (in the same dose) that's been given to millions of adults around the world. As a practical matter, this is a good thing, as vaccine sites won't have to stock an additional kind of shot at the moment.
What about the Moderna and Johnson & Johnson vaccines?
Moderna and Johnson & Johnson—the companies behind the other two vaccines approved for use in the United States—are lagging behind Pfizer in this area. While they are apparently being studied in young people—trials in young people, teens, infants, pregnant people, very young children, etc.—are still ongoing.
When will younger children be eligible for a COVID-19 vaccine?
Pfizer expects its vaccine to be approved for use in toddlers and young children (kids aged 2 to 11) in September and infants in November. That's a bit of a trickier proposition, as kids that young will need different doses of the vaccine.
"As we get down to younger children, age 11 and below, different doses of the vaccine will need to be used," Dr. Peter Marks, director of the FDA's Center for Biologics Evaluation and Research, said. "And there are also different benefit-risk considerations because we know that younger children have been susceptible to this interesting multi inflammatory syndrome with COVID-19, and we have to make sure that we're not going to see anything untoward in the youngest children."
Will kids actually get vaccinated?
Millions of kids will likely be vaccinated, but a recent survey from the Kaiser Family Foundation found that only one-third of parents of 12- to 15-year-old kids will immediately act to get their kid the shot. This widespread vaccine hesitancy in parents will blunt the positive effect of this expansion, reinforcing the fact that after creating and getting approval for COVID-19 vaccines, actually convincing people to get shots in their—and their children's—arms is a tricky thing to do.
This article was originally published on