Fauci Says Vaccinating Kids Necessary for U.S. to Reach Herd Immunity
But when will kids actually be able to get the vaccine?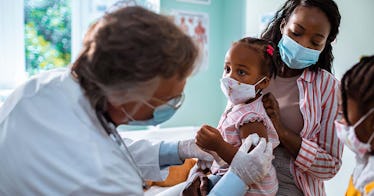 In an appearance before the Senate Health, Education, Labor, and Pensions Committee yesterday, Dr. Anthony Fauci said that a COVID-19 vaccine for kids would likely need to go into wide circulation for the United States to reach herd immunity, the indirect protection from an infectious disease that happens when enough of a population is immune from severe illness.
The longtime head of the National Institute of Allergy and Infectious Diseases made the statement based on his estimate that 70 to 85 percent of the population would need to be immune to the virus to reach herd immunity, which can come through infection (which may or may not lead to durable COVID-19 immunity) or inoculation, which is obviously the preferable route.
"We don't really know what that magical point of herd immunity is, but we do know that if we get the overwhelming population vaccinated, we're going to be in good shape. We ultimately would like to get and have to get children into that mix," Fauci said. He also argued that the focus should remain on preventative measures like wearing face masks and social distancing that we know reduce the spread of the novel coronavirus.
But Fauci's mention of vaccinating kids is an interesting development.
Kids have thus far been left out of vaccinations thus far as older people, frontline workers, and those with certain medical conditions are at much higher risk of serious symptoms if they contract COVID-19 get the jab. And while states have been gradually extending eligibility to new groups, getting kids the vaccine won't be quite that simple.
That's because pharmaceutical companies have only recently started to test their COVID-19 vaccines on teens, with testing on younger kids likely in the future. Fauci said last month that kids age 12 and up likely won't start getting the vaccine until September.
All of this is to say that even as eligibility opens up in states around the country, the prospect of getting kids vaccinated on a large scale is likely still a long way off.
This article was originally published on