Watch a Father-Son Duo Rip Through Simon Cowell's Heartstrings
The two have actually been singing together since the boy was five-years-old.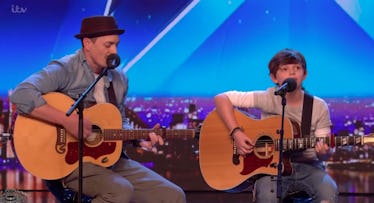 Youtube Britains Got Talent
A father-son singing duo blew everyone away on Britain's Got Talent, even getting the stamp of approval from the notoriously hard to please Simon Cowell. After their performance, Cowell slammed on the coveted golden buzzer, meaning that the duo no longer had to audition with the rest of the contestants and could move straight on to the live round.
Tim Goodacre, a stay-at-home dad has been performing in a duo with his 12-year-old Jack since the latter was a little boy. Together they performed an original song called "The Lucky Ones," that, per Tim, was "about how lucky we are to have what we have." While some people would use the father-son thing as a gimmick Tim and Jack simply sit and pour their hearts out. And they are real deal — not only is the song composed beautifully but their voices mingle together marvelously.
Tim has a very nice voice. But only when Jack chimes in does the song's true beauty reveal itself. The 12-year-old has a remarkable singing voice and the two fill each other's melodies out beautifully.
After the song, the audience and the judges gave the duo a standing ovation. After the applause died down, Cowell dramatically pushed the golden buzzer and went up on stage to congratulate Tim and Jack, where he told them how much he loved the song and that it reminded him of his own boy. Any parent who watches the performance will feel a similar emotion. It's a wonderful, buzzer-worthy song. Here's hoping puberty is kind to Jack's voice.