Facebook Whistleblower Alleges Platform is Toxic, "Harms Children"
In Congressional testimony, the former employee and whistleblower alleged that the company frequently chooses profit over user safety.
by Ethan Freedman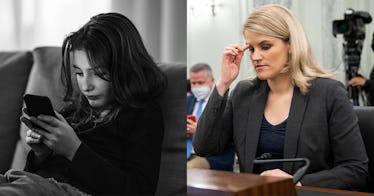 GETTY
Facebook has had a very bad week.
On top of October 4th's multi-platform outage that lasted several hours, the company was the focus of a 60 Minutes interview the night previous featuring a former employee-turned-whistleblower. She alleges that the website is a threat to democracy, amplifies hate speech, and — among those other things — endangers the well-being of children.
After her 60 Minutes interview, Facebook's director of policy communications, Lena Pietsch, gave an extensive point-by-point response to Haugen's allegations in the news hour. "Every day our teams have to balance protecting the right of billions of people to express themselves openly with the need to keep our platform a safe and positive place. We continue to make significant improvements to tackle the spread of misinformation and harmful content. To suggest we encourage bad content and do nothing is just not true."
The whistleblower, Frances Haugen, testified today before a Senate subcommittee on consumer protection. Her prepared remarks note that she believes "Facebook's products harm children, stoke division, weaken our democracy and much more."
While at Facebook, Haugen worked on these issues, in both misinformation and "counter-espionage," according to her testimony. Her remarks allege specifically that "Facebook repeatedly encountered conflicts between its own profits and our safety," and yet often took the side of profit. In some cases, her testimony alleges, this has led to a "profit optimizing machine" that is "generating self-harm and self-hate — especially for vulnerable groups, like teenage girls."
On the claim of prioritizing profit over safety, the company told 60 Minutes: "Hosting hateful or harmful content is bad for our community, bad for advertisers, and ultimately, bad for our business. Our incentive is to provide a safe, positive experience for the billions of people who use Facebook. That's why we've invested so heavily in safety and security."
Today's hearing comes on the heels of a recent Wall Street Journal series based on documents Haugen leaked to the paper. One of those stories focuses on internal research from the company showing that Instagram reinforced negative thoughts on body image for many teenage girls, among other mental health issues in teens exacerbated by the platform. (That internal research was later released by Facebook and published by outlets such as The Verge.)
And at least one of the Senators present today can apparently offer his own first-hand knowledge of the company's threat to teens. Senator Richard Blumenthal, Democrat of Connecticut and chairman of the subcommittee holding today's hearing, said his staff pretend to be a teenage girl on Instagram (Instagram is owned by Facebook), according to Roll Call. They followed content on dieting and eating disorders — and were then flooded with other content on "self-injury and eating disorders," the publication reports.
Despite these findings, the company was trying to expand Instagram use in kids at least until recently. Last month, Facebook shelved plans for "Instagram Kids," a platform that would have targeted children under age 13. (Users must be 13 years or older to use regular Instagram.)
In the spring, dozens of attorneys general from across the country asked the company to cancel Instagram Kids, stating that the platform "exploits young people's fear of missing out and desire for peer approval."
But some people are skeptical that this cancellation is permanent. At the hearing today, Senator Brian Schatz, Democrat of Hawaii, asked Haugen if she thought the company would "actually discontinue Instagram Kids," or if they're "just waiting for the dust to settle."
"I would be sincerely surprised if they do not continue working on Instagram Kids," Haugen responded.
"Facebook understands that if want to continue to grow, they have to find new users, they have to make sure that the next generation is just as engaged with Instagram as the current one," Haugen told Senator Schatz. "And the way they'll do that is by making sure that children establish habits before they have good self-regulation."
In Facebook's previous statement in response to Haugen's 60 Minutes interview, they said of Instagram Kids: "While we stand by the value that this experience would provide to families, we've decided to pause this project to give us time to work with parents, experts, policymakers and regulators, to listen to their concerns, and to demonstrate the importance of this project for younger teens online today. The reality is that kids are already online, and we believe that developing age-appropriate experiences designed specifically for them is far better for parents than where we are today."
Further reporting from the Wall Street Journal found that one Facebook document stated: "With the ubiquity of tablets and phones, kids are getting on the internet as young as six years old. We can't ignore this and we have a responsibility to figure it out."
Already, the company has a version of its Messenger app designed for children, which includes some parental control features.
In response to last month's series of stories in the Journal, Facebook has disputed some of the claims, stating in part that "these stories have contained deliberate mischaracterizations of what we are trying to do, and conferred egregiously false motives to Facebook's leadership and employees."
But it seems Congress isn't going to let up their investigation any time soon. During today's hearing, members of both parties seemed to express concerns over Facebook's business model.
NPR reported that Senator Marsha Blackburn, Republican of Tennessee and ranking member of the hearing's subcommittee, would point out that Facebook is "running out of teens to add to Instagram" and is "studying younger and younger kids so they can market to them" in her opening remarks at today's hearing. (You can watch the full hearing, including Senator Blackburn's opening statement, here.)
Facebook isn't the only tech company to run into controversy with content designed for kids — YouTube has faced complaints about privacy concerns and auto-playing videos, for example. And social media isn't just potentially fraught for children, as the Journal reports that the site has also become a platform for human trafficking, drug cartels, and hate speech against ethnic minorities. In addition, after the pandemic hit, Facebook became a key distributor of anti-vaccination misinformation.
For parents worried about their kids and the internet, you can always encourage your child to spend as much time offline as possible and create other ways for them to engage with media and friends. But in today's internet-centric world, that can also be difficult, so for more specific tips on safe internet use, parents can also check out the Fatherly Guide to Keeping Kids Safe Online.
This article was originally published on