Here's Exactly How Facebook Has Changed 'Messenger Kids'
It's giving parents access to way more information about who their kids are talking to and what they're talking about.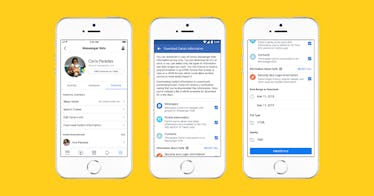 A little more than two years after its initial release, Facebook is revamping the kids' version of its Messenger app, the company announced today. But kids won't even notice most of the new features, as the majority are coming to the Parent Dashboard and not the kids' app itself.
Parents will be now able to see who their kids are chatting with, how frequently they chat, and whether or not they use video calling in those exchanges. They'll also get access to the images and videos that their kids are sending and receiving. Parents can also see a list of all the users their kid has reported or blocked and why instead of just alerting them when such an action happens.
Rounding out the new Parent Dashboard feature list is device control that lets parents see which devices their kid has logged in from and, if necessary, log them out of those devices. There is also a data-download feature that will allow parents to request a copy of their kid's Messenger Kids information the same way they can download their own from grown-up Facebook.
The app has been dogged by controversy since launch, largely due to people rightly questioning Facebook's motivations in getting into the children's messaging market. There was also a flaw in the app last year that let kids participate in group chats with users their parents had not approved, an obvious loophole that made one of the core security features of the app mostly useless.
On their side of things, kids will see a new activity "that uses kid-appropriate language to educate kids on the types of information people can see about them." The company says the goal is to make kids more aware of what strangers on the internet can see about them. It will also inform them of the access their parents have to their information through the Parent Dashboard.
Facebook updated the privacy policy for the app accordingly, but it also put in some clues about which features we will see in future releases such as an in-app feedback tool and more parental control over which features their kids can access.
This article was originally published on