Coronavirus Outbreak Causes Face Mask Shortage Around the World
Here's what famiies need to know.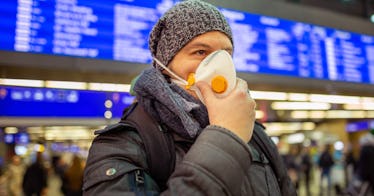 As the COVID-19 outbreak continues to spread, industries around the globe, from tourism to Chinese restaurants, are suffering. Fear of the disease has led to a boom in sales for medical supply companies, so much so that they're struggling to keep up with demand.
The largest American manufacturer of surgical masks is struggling to fill orders despite producing 600,000 of them every day. Korea is limiting mask exports to ensure there are more available for its citizens. In Italy, home to the worst COVID-19 outbreak in Europe, authorities are investigating "insane" online prices on medical supplies as Amazon similarly cracks down on opportunists gouging customers on its platform.
The good (?) news is that there is no evidence that wearing a surgical mask is necessary for healthy people. "Right now, there's no evidence that [wearing face masks] is going to help prevent that infection," says Dr. Charles Chiu, a professor of laboratory medicine at the University of California, San Francisco. "I would not recommend that someone in the US who does not have direct exposure did not recently travel to China…or in general, that you go buy a face mask."
So while Gwyneth Paltrow and Kate Hudson might post mask selfies en route to Paris Fashion Week, they're simply revealing their ignorance to their followers.
If they aren't sick, they're wasting a medical item that's in high demand. And if they are sick, getting on an international flight at all is one of the most inconsiderate, irresponsible actions they could take. In other words, you shouldn't be listening to the celebrities on this one.
The bad news comes courtesy of the agency you should be listening to, the Centers for Disease Control. It notes that face masks are a vital piece of equipment for health workers and those caring for patients in close settings like health care facilities and homes. It's here that the shortage really gets scary.
"We currently have 30 million N95 respirators [that provide better protection than other masks] in the strategic national stockpile," Health and Human Services Secretary Alex Azar said. Earlier that day, his colleague told the Senate that 300 million would be needed for healthcare workers. Yikes.
So the bottom line for parents is that you and your kids should only wear surgical masks if you're exhibiting symptoms of the virus. Wearing them otherwise is ineffective and, given the acceleration of the spread of the disease and the ongoing shortage of masks, morally suspect.
This article was originally published on