Parents With Migraines Beware: Two Types of Excedrin Have Been Temporarily Discontinued
Production was halted after "inconsistencies" were found.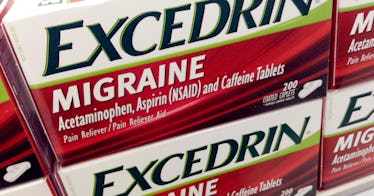 Mike Mozart/Flickr
To many people who suffer from migraines, Excedrin is the medication they need to function, with some preferring it to more drastic options like medical marijuana, Botox, and prescription options. That's why the current shortage of both Excedrin Extra Strength and Excedrin Migraine is such a worrisome development.
Manufacturer GlaxoSmithKline recently announced that they halted the production of both varieties of the well-known blend of aspirin, acetaminophen, and caffeine.
"Through routine quality control and assurance measures, we discovered inconsistencies in how we transfer and weigh ingredients for Excedrin Extra Strength Caplets and Geltabs and Excedrin Migraine Caplets and Geltabs," it said in a statement that doesn't really say much of anything.
But while GSK is being cagey about what the specific issue is, the company is assuring consumers that their existing supplies of these medicines don't pose a safety risk, describing the production interruption as "a precautionary measure."
That's the good news. The bad news is that the company has also yet to make an announcement about when production of Excedrin Extra Strength and Excedrin Migraine will resume.
Consumers can still purchase other Excedrin products like Excedrin PM Headache and Excedrin Tension Headache, but GSK is telling people to consult their pharmacist to find a temporary alternative.
Despite the fact that the individual ingredients in these two products are available separately, the lack of their typical medication is still worrisome, which makes sense given the painful, debilitating nature of the condition.
It's important to note that generic and/or store versions of Excedrin are available that contain the same ingredients, and supplies of those should be more reliable. Of course, if you're used to relying on a specific brand every day, it still might be difficult to make a change.
"If I was to buy a different brand, it doesn't even touch it. I haven't seen it empty like this [in stores]. It's kind of scary," Ashleigh Eldred, a migraine sufferer in western New York told WSYR.
This article was originally published on