More Than 1 Million Families Will Likely Face Eviction Before Halloween
Here's why millions could lose their home mid-pandemic—and what the Biden administration is trying to do about it.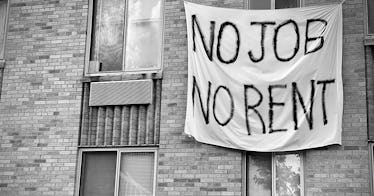 GETTY
The United States is barreling towards an onslaught of evictions. It's a totally preventable event that will destabilize families, traumatize children, and make it difficult to secure stable, permanent housing. They're particularly dangerous, and damn near violent, during a pandemic, so the looming wave is particularly concerning. Here's what the Biden administration is trying to do to help renters—and why it might not be enough.
After taking office, President Biden extended Trump's eviction moratorium multiple times before allowing it to expire on July 31. It took formerly unhoused Rep. Cori Bush sleeping on the steps of the Capitol for three nights to create enough political pressure to force the administration to issue a new order, one that is set to expire on October 3.
The current moratorium only applies "in counties with heightened levels of community transmission in order to respond to recent, unexpected developments in the trajectory of the COVID-19 pandemic, including the rise of the Delta variant." As of Thursday, 96.05 percent of U.S. counties meet that requirement, a sign of just how much damage the Delta variant has wrought on American communities from coast to coast.
But despite the proven efficacy of eviction moratoria in reducing COVID-19 infection rates, the latest moratorium's days are likely numbered. A federal appeals court declined a request from the Alabama Association of Realtors to block the government's enforcement of the moratorium last week. That victory will likely be short-lived, however.
The case now heads to a Supreme Court whose majority suggested back in June that it would block the policy if it continued for too long. Both sides seem to think that the conservative justices are unlikely to allow the moratorium to continue. A ruling is expected this week.
The best hope the 11.4 million adult renters who are behind on rent have now is the Emergency Rent Assistance Program, a $46.5 billion program created to pay the back rent accrued during the pandemic. Unfortunately, just 11 percent of the cash has been disbursed, to date, a glacial pace that immediately threatens the homes of the nearly 1.3 million households that are very likely to face eviction in the next two months, according to Census Bureau data.
Roughly 2.8 million households have applied for ERAP aid—700,000 were rejected and 1.5 million were approved, leaving 1.5 million waiting for approvals. Those numbers aren't great, but the fact that 60 percent of vulnerable renters haven't even applied for the program is even worse.
To its credit, the Biden administration has taken steps to speed up the program. Gene Sperling, the White House official in charge of COVID rescue efforts, outlined some of them on Twitter.
In addition to these changes loosening the documentation requirements, the Treasury Department has also approved estimated bulk payments to landlords and utilities to keep tenants in their homes instead of letting a need for perfectly precise calculations open the door for more evictions.
The White House has also spent months pressuring state and local officials to dole out the money more quickly. The impact has been uneven, with states like Texas getting the money out more quickly while others, including Florida and New York, lag behind.
Per the New York Times, Biden's team is also asking state courts to intervene to force landlords to accept the aid (some would rather evict than take the money to allow their tenants to stay) and educate tenants who often enter housing court without legal representation, at a severe disadvantage in arguing their case.
What's clear is that the safety net in the United States is not strong enough to protect its most vulnerable citizens from eviction, even as pandemic evictions have been shown to exacerbate the spread of COVID and the pandemic enters a new, more dangerous stage. The best-case scenario is that people like Representative Bush can leverage their experiences fighting for eviction protections during the pandemic into more durable gains in the post-pandemic era, whenever that is.