This Etch-A-Sketch History of Calculus Got a Kid Into MIT
Dezell Turner used the classic toy to make a five-minute video abut the history of calculus and earned himself a ticket to the top schools.
by Raz Robinson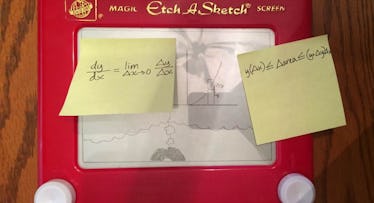 Youtube/Comic Doodles 2.0
An Iowa high schooler earned an invite to study at both MIT and Caltech using his brains and an Etch A Sketch to impress application readers. Dezell Turner used the classic toy to make a five-minute video about the history of calculus for a school project and decided to include the video with his application to give him an edge.
"I'm not certain if it helped me get in, but I have a hunch it did," Turner told local television station KCCI.
For Turner, who's been an Etch-A-Sketch enthusiast since he was a student in middle school, drawing on an Etch A Sketch is just "an extension," of his "mathematical mind." One can imagine why he sees it that way. Just like geometry is the study of shapes, calculus is the mathematical discipline for measuring continuous change. An Etch A Sketch basically uses two white knobs that control the X and Y axis' to create a drawing with a stylus that shuffles around the aluminum powder inside the toy to create images. The pictures are lineographic which means that the whole picture is done with a single line. Just like in calculus, the toy requires that you anticipate how a line "changes" along its X or Y axis from a single starting point.
"It [Etch A Sketch] taught me calculus before I knew what calculus was," Turner said.
The competition for Dezell was pretty stiff as well. MIT only accepted about 8 percent of their applications in 2016. Caltech usually only takes a few more with about 9 percent of their applications resulting in an acceptance letter. It's a hard choice, but luckily Turner, who hopes to become an aerospace engineer, has a few more days to decide where he wants to go in the fall.
This article was originally published on