'Endgame' Deleted Scene Reveals What Happened to Gamora
by Catherine Santino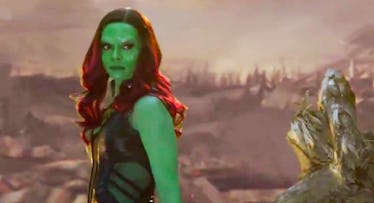 Marvel Studios
Between plot twists and time travel, Avengers: Endgame left fans with more questions than answers. One scene, in particular, had moviegoers scratching their heads, and yes there are about to be massive spoilers so beware. After the dramatic death of Tony Stark aka Iron Man, it's unclear what happens to Gamora. But thanks to a brand new deleted scene, fans are finally getting some clarity; and the internet is having a field day over it.
Thanos' adopted daughter Gamora makes an appearance in Endgame when Rhodes and Nebula time travel to the era of Infinity Wars (aka 2014) to steal the Power Stone. Upon returning to the present day, Nebula convinces her sister Gamora to fight with the Avengers rather than against them. After Tony sacrifices himself and the battle ends, Thanos and his army disappear. We could assume that Gamora left with them, but it's never confirmed.
In an exclusive deleted scene shared by USA Today, we're finally getting some answers. The clip shows the Avengers mourning over Tony Stark's death and kneeling in his honor. The camera then pans to Gamora, who just kind of…walks away.
The internet obviously is having a great time with this information, with many joking about Gamora's dismissive attitude.
Though it's not made exactly clear why Gamora bailed, some fans joked it has something to do with the lack of tribute after the Black Widow's death.
Though we maybe didn't get all the answers with this new clip, we can count on Marvel to bring Gamora back for future movies.
This article was originally published on