Elon Musk Says His Family Won't Get the COVID-19 Vaccine
The CDC would like a word.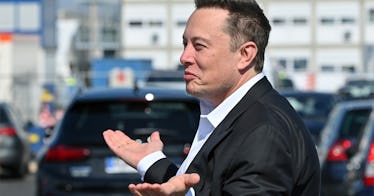 GETTY
Elon Musk revealed that when a COVID-19 vaccine becomes available he and his family won't be getting one. He's not worried about political interference corrupting the process, which is a legitimate concern given the Trump administration's previous manipulation of public health agencies. No, Musk has a wilder rationale for skipping the vaccine.
"I'm not at risk for COVID, nor are my kids," he told Kara Swisher on her new podcast. He did not provide any evidence for this claim, and the CDC says "everyone is at risk for getting COVID-19 if they are exposed to the virus."
Musk did not elaborate on why he feels the way he does, but his comments aren't exactly unexpected given his history of COVID-19 skepticism.
In January, Musk predicted that this coronavirus would be "comparable to other forms of influenza" in terms of its virality. In March, he predicted, "close to zero new cases in the US by the end of April." He was wrong on both counts but seems unconvinced by the mounting evidence that COVID-19 is an exceptionally dangerous disease.
Elsewhere on the podcast, Musk also spoke to keeping his factories open during the pandemic despite the recommendations of public health experts and got testy when Swisher asked him what one of his employees should do if they were worried about getting COVID-19 at work.
It seems pretty hypocritical if Musk took steps to protect himself from a virus he'd forced his employees to risk contracting. At this point, we'll just have to see if Musk changes his mind, something he often does all the time, particularly on COVID-19.
This article was originally published on