Elmo Is Officially the First 'Sesame Street' Character on Instagram
And he's already racking up the followers.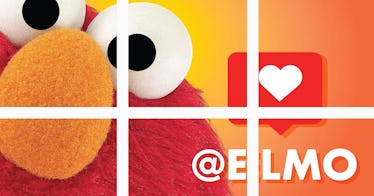 @elmo / instagram
Normally, a 40-something joining Instagram would just be another reason for the youngs to flee to TikTok. But when that 40-something is Elmo, who made his Sesame Street debut in 1980, it's news, and maybe a cause for celebration.
Elmo is the first Muppet to have an account on the 'the Gram, and he's already racked up thousands of followers with an array of six pictures that form his face when you look at them as a grid. It's a reminder, much like the Tickle Me Pandemonium of 1996 was, that people really love this falsetto-voiced puppet.
The account is currently following 25 celebrities, most of whom have appeared on Sesame Street before, people like John Mulaney, Olivia Wilde, and Kacey Musgraves. And Batman. That's right, Elmo follows Batman, which suggests the kind of gritty Sesame Street-DC crossover event the world needs right now, just a few months removed from SNL's brilliant Oscar the Grouch-Joker parody. Pattinson, get on this ASAP.
According to a statement announcing the new account, followers can expect "more humor and heart as Elmo connects with his loved ones all around the world, providing fans with encouraging and upbeat content and interactions." Sounds appropriately adorable to us!
Canonically, Elmo is still three-and-a-half on Sesame Street, so his Instagram bio specifically says that his is an "account run with the help of Elmo's mommy and daddy," which is kind of weird but we guess a good message for any kids who come across it. Then again, we always knew Elmo was a thirst-god, just waiting for this moment.
All of this has us wondering which Sesame Street Instagram accounts are in the pipeline. Maybe the Count, who already has a brilliantly simple Twitter presence, would be a good choice, though Oscar the Grouch might be the most appropriate choice. Most of the internet, is trash, after all, so he'd have a great time.
This article was originally published on