Egg and Chicken Prices Explode As 15 Million Chickens Get Bird Flu
Here's how to ease pain at the checkout line.
by John McCracken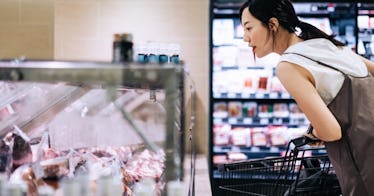 d3sign / Getty Images
The avian flu is spreading throughout the country, leading to millions of dead birds and a steep incline in the price of poultry. To date, nearly 23 million birds, with the majority being chicken and turkeys, have died in North America due to the avian flu. States with large bird-farming operations are already feeling the crunch of the flu, both in the loss of livestock for farmers and the price of eggs, meat and other poultry products.
Large outbreaks have been mostly sequestered to the Midwest and South, but producers across the country are taking precautions to prevent more deaths. Iowa, the nation's leader in egg production, has seen drastic shortages and deaths. In North Carolina, poultry shows and public sales of birds have been halted. Even some zoos have hidden birds from the public, despite no confirmed cases at zoos, to prevent the deaths of exotic birds like penguins and mitigate the spread of the avian flu.
In turn, families are feeling the crunch at the checkout lane with egg prices up 11.4% in February compared to last year, according to the latest Consumer Price Index data published in March. The US Department of Agriculture's (USDA) national retail report shows chicken prices have risen an average of 83 cents week-over-week since late March — and prices could continue to rise.
With both no immediate end in sight for the avian flu and an upcoming egg-centric Easter holiday, here are some ways your family can adjust to the avian-flu-related price strains.
Stock up on sales
At this point, families across the country have become accustomed to bargain-hunting due to rising grocery costs, disrupted supply chains, and ongoing inflation when putting together their weekly shopping lists. Even chicken nuggets haven't been safe from grocery store scuffles. Be sure to check out your local grocery store's weekly coupons or scroll through this massive online coupon database to see if your local grocer pops up.
Be on the lookout for direct producer coupons from large companies like Tyson or Hormel when searching online or in print.
Talk to a local butcher
While your local butcher may be feeling the strain caused by the avian flu, they may also have a beat on nearby farmers taking necessary precautions to keep their flock safe. Good Meat Breakdown, an online rescue for finding local butchers, helps consumers start the process of finding a local farmer or producer and offers a breakdown of producers by state.
ChopLocal, a similar online resource, provides another avenue for finding a local butcher.
Egg-ternatives for Easter
With the average weekly price of large eggs 44% higher than this time last year, according to US Department of Agriculture data, it might be time to ditch the cartons and break out the crafts. Families can find mess-free and inventive ways to decorate eggs this year, including paper machetes or even plastic eggs filled with slime.
The Sierra Club, one of the oldest environmental organizations in the country, has outlined a way for families to use wooden eggs, vegan candy eggs and other options to both go green and shake up Easter crafts.
Consider a meatless, or more meatless, diet
Speaking of going green, families who are struggling to afford or even find chicken and turkey products currently could also consider swapping poultry for meat-less options amidst the ongoing avian flu. It's only temporary, it's great to have alternatives like tofu, and it's not bad for you or the kids, either. Going meatless is an increasingly common practice for families, even if it is just for one or two nights a week.
Mayo Clinic suggests trying alternatives to meat a couple of times a week by letting protein alternatives such as beans, legumes, and tofu shine through. Even if you've got a busy night ahead of you, there are plenty of vegan chicken sandwiches and plant-based options popping up in fast-food and grocery stores across the country.
This article was originally published on