Dwyane Wade Has a Message For the Haters Who Mocked His Son on Instagram
Dwyane Wade was a great NBA player, but he might be an even better dad. It's all about parental pride.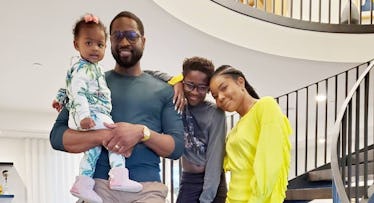 Instagram/gabunion
Dwyane Wade may be retired, but that doesn't mean he has time to let internet trolls make him second guess his parenting style.
Gabrielle Union, the NBA legend's wife, posted a family portrait on Thanksgiving featuring Wade, his 12-year-old son Zion, and their daughter, 1-year-old Kaavia. It's a nice picture! Wade and Union and very attractive people, so naturally they have cute kids.
In the picture, Zion wore a crop-top and sported long nails. The proper reaction, as it always is to the fashion choices of preteens you don't even know, is "so what?" But unfortunately, a small but vocal minority of commenters took issue will Zion's outfit and Wade's decision to let his son dress as he pleased.
"So sad these boys turning into girls," "Men have lost their backbone and this is unacceptable child abuse," and "Can we go back to reading the Bible and following it" were typical of the ignorant replies.
To which, Wade said, go kick rocks.
Instead of getting into the gutter, Wade took the high road and reaffirmed his support for his family. In a follow-up tweet, he further elaborated his parenting philosophy.
Wade's past actions back this up. When he was unable to attend then 11-year-old Zion's first-ever pride parade last spring, he posted photos to his Instagram story with captions like "Wish i was there to see you smile kid!" and "We support each other with Pride!"
"I don't really talk about it much because it's Zion's story to tell," Wade told Variety a few months later. "I think as a family, we should support each other. That's our job. And my job as a father is to facilitate their lives and to support them and be behind them in whatever they want to do."
Wade's decision to respond to the "post-thanksgiving hate" his family received is part and parcel of how he sees his job as a father. He could have ignored it, but being vocal and visible in his support for Zion is a more supportive way of dealing with the situation.
This article was originally published on