The Rock Reveals His Entire Family Tested Positive For COVID-19
His advice for everyone: control the controllables.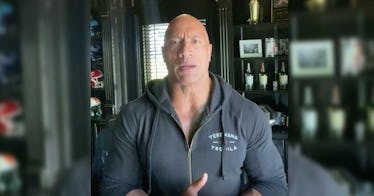 The Rock/Instagram
Dwayne "The Rock" Johnson just revealed that he, his wife Lauren Hashian, and their young daughters Jasmine and Tiana spent the last three weeks recovering from COVID-19.
"I can tell you that this has been one of the most challenging and difficult things we have ever had to endure as a family, and for me, personally, too as well," Johnson continued. "Testing positive for COVID-19 is much different than overcoming nasty injuries, or being evicted, or even being broke, which I have been more than a few times and that's because my number one priority is always to protect my family."
"I wish it was only me who tested positive, but it wasn't. It was my entire family, so this one was a real kick in the gut. But I am happy to tell you guys that we as a family are good. We are on the other end of it. We are on the other side. We're no longer contagious, and we are — thank God — we are healthy."
The Rock followed up this good news by speaking about how thankful he was that his family made it through, knowing as he does personally lots of people who've lost friends and loved ones to the disease.
He then explained that his kids had mild symptoms, just a little sore throat for a few days, but that he and his wife had a "rough go" after contracting the disease from family friends despite everyone being disciplined since the beginning of the pandemic.
Johnson then outlines his takeaways from the experience. Namely, the importance of being even more disciplined than you already are — he's going to require negative tests of anyone coming into his house — along with taking care of your immune system and wearing a mask.
Indeed, the experience made Johnson a strong anti-anti-masker.
"It baffles me that some people out there including some politicians will take this idea of wearing a mask and make it a political agenda, part of a political agenda, politicizing it. It has nothing to do with politics. Wear your mask. It is the right thing to do. It is the responsible thing to do, not only for yourself but for your family but also for your fellow human beings."
He goes on to add that his mother, a lung cancer survivor with COPD, wears her mask every day.
Everything Johnson the COVID-19 survivor suggests can be boiled down to the hashtag he used on the post: #controlthecontrollables. The sooner everyone does that, the sooner we can go back to hugging.
This article was originally published on