Dr. Dre Celebrates Daughter's USC Acceptance "All On Her Own" After $70 Million Donation
Dr. Dre avoided the Operation Varsity Blues scandal, but he's still getting called out for college admissions shenanigans.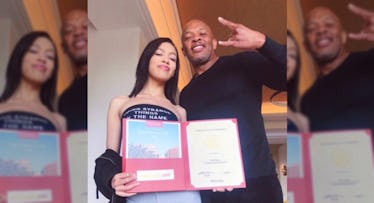 Instagram / drdre
In a since-deleted Instagram post, Dr. Dre celebrated his daughter's acceptance into USC "on her own" and, in an apparent jab at the parents ensnared in the Operation Varsity Blues scandal, he added "No jail time!!!" And while there's nothing wrong with a little bit of schadenfreude, there's definitely something weird about hearing the comment from a multimillion-dollar benefactor of the school.
When she matriculates in the fall, Truly Young will walk onto a campus with an entire school named after her dad. The USC Jimmy Iovine and Andre Young Academy was founded in 2013 after Dre and music producer and executive Jimmy Iovine donated $70 million to get the "educational startup" off the ground.
There's no evidence that Truly Young wouldn't have gotten in with her dad's donations, but the mocking nature of his post is a bad look regardless. The Operation Varsity Blues scandal has drawn attention to the ways the rich and powerful manipulate the college admissions system to their own ends even when it's done legally.
In his pitch to potential clients, Rick Singer, the man behind the scheme, spoke of three ways to get into college. The front door is applying normally through the admissions office. The side door is what Singer offered, a scheme of fraud and bribes to unfairly secure higher standardized test grades and access to spots reserved for athletes.
The back door is what Singer called "institutional advancement," essentially pouring huge sums of cash into a school with a tacit expectation of favors to follow. In his pitch to parents, Singer pointed out that the back door costs "ten times as much money" than his scheme, but Dr. Dre can afford it. He's a historically successful artist and co-founder (with Iovine) of Beats by Dre, a consumer audio company sold to Apple in 2014 for $3.2 billion.
So while he may have avoided illegal conduct in his dealings with USC, for Dr. Dre to claim that his financial support of the school had no effect on his daughter's application strains belief, if only because his donation and his daughter's acceptance fit into such a common narrative.
This article was originally published on