DoubleTree Releases the Secret Recipe for Its Famous Chocolate Chip Cookies
Thirty-four years after it was created, you can finally try this recipe at home.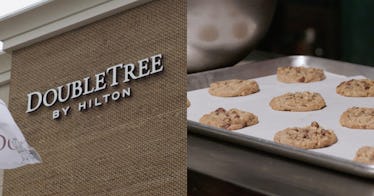 Some of the best damn chocolate chip cookies around can be found at DoubleTree hotels. The cookies, served free to hotel guests, are served warm, and they hit the spot, especially after a long day of travel, sightseeing, or business away from home. Their recipe has always been a closely guarded secret, until last Thursday, when Hilton, which owns the DoubleTree brand, revealed it to the world.
The recipe was originally developed in 1986 as a treat for hotel VIPs, in a press release. It's not quite KFC tweeting out the 11 original herbs and spices or Coca-Cola publishing the original formula for Coke, but it's welcome news for anyone who's ever wanted to whip up some DoubleTree cookies from the comfort of home.
"We know this is an anxious time for everyone," said Shawn McAteer, senior vice president and global head of DoubleTree by Hilton. "A warm chocolate chip cookie can't solve everything, but it can bring a moment of comfort and happiness.
"We hope families enjoy the fun of baking together during their time at home, and we look forward to welcoming all our guests with a warm DoubleTree cookie when travel resumes."
A close examination of the recipe reveals that the obvious ingredients — sugar, butter, eggs, flour, etc. — are all there, but there are also a few surprises that make DoubleTree cookies different. Not too many chocolate chip cookie recipes have lemon juice and rolled oats, but they're both here, along with a pinch of cinnamon.
You can watch a video of the cookies being prepared and see the complete recipe below.
DoubleTree Signature Cookie Recipe
Makes 26 cookies
Ingredients:
½ pound butter, softened (2 sticks)
¾ cup + 1 tablespoon granulated sugar
¾ cup packed light brown sugar
2 large eggs
1 ¼ teaspoons vanilla extract
¼ teaspoon freshly squeezed lemon juice
2 ¼ cups flour
1/2 cup rolled oats
1 teaspoon baking soda
1 teaspoon salt
Pinch cinnamon
2 2/3 cups Nestle Tollhouse semi-sweet chocolate chips
1 3/4 cups chopped walnuts
Instructions:
Cream butter, sugar and brown sugar in the bowl of a stand mixer on medium speed for about 2 minutes.
Add eggs, vanilla, and lemon juice, blending with mixer on low speed for 30 seconds, then medium speed for about 2 minutes, or until light and fluffy, scraping down bowl.
With mixer on low speed, add flour, oats, baking soda, salt and cinnamon, blending for about 45 seconds. Don't overmix.
Remove bowl from mixer and stir in chocolate chips and walnuts.
Portion dough with a scoop (about 3 tablespoons) onto a baking sheet lined with parchment paper about 2 inches apart.
Preheat oven to 300°F. Bake for 20 to 23 minutes, or until edges are golden brown and center is still soft.
Remove from oven and cool on baking sheet for about 1 hour.
Cook's note: You can freeze the unbaked cookies, and there's no need to thaw. Preheat oven to 300°F and place frozen cookies on parchment paper-lined baking sheet about 2 inches apart. Bake until edges are golden brown and center is still soft.
This article was originally published on