Documentary About Blockbuster Is Coming Soon… To A Screen Near You
And it's fittingly titled, "The Last Blockbuster."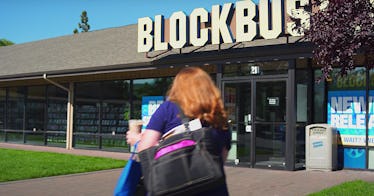 The last Blockbuster store, located in Bend, Oregon, recently announced that it was closing for good. Now, to the dismay of movie lovers everywhere, it's set to be turned into an Airbnb. While we'd rather have an actual store to go to, there is at least one interesting thing to come out of the demise of the iconic franchise: a documentary about the Bend, Oregon Blockbuster, appropriately (and apocalyptically) titled, The Last Blockbuster. The film has been in the works for a while now, with the trailer released in March, but thanks to the viral news about the last store becoming an Airbnb, the documentary has generated quite a lot of buzz as of late. Variety is now reporting that 1091 Pictures has acquired it and will release the film on December 15. Unfortunately, we can't go to a Blockbuster to rent the film… we'll have to stream it.
The film centers on store manager Sandi Hardin ("the Blockbuster mom," according to the trailer)'s efforts to manage the store in the streaming era in addition to offering a look into the corporate side of Blockbuster and its eventual filing for bankruptcy. A press release explains, "The Last Blockbuster brings the world together over our shared memory of Friday night pizza and renting movies. For us the perfect next step was getting together with 1091 Pictures to release it just in time for the holidays," as per Consequence of Sound. Actor Adam Brody, director Kevin Smith and comedians including Paul Scheer will also be featured, waxing nostalgic and talking about their time as former Blockbuster customers. At least you won't accrue late fees watching the documentary?
You can take a look at The Last Blockbuster trailer below.
This article was originally published on