Disney Chairman, California Governor Feud Over Disneyland Reopening
It's been nearly seven months since the Happiest Place on Earth closed its doors.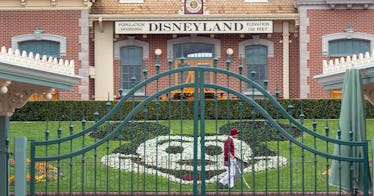 Getty
While theme parks in other states and other industries in California have reopened, Disneyland and its competitors in the Golden State remain shuttered by executive decree from Governor Gavin Newsom. The continued closure has opened a rift between Disney and Newsom, with Disney chairman Bob Iger resigning from Newsom's recovery task force last week. And the governor's latest comments don't bode well for those anxious to visit Sleeping Beauty's Castle soon.
"We don't anticipate in the immediate term any of these larger parks opening until we see more stability in terms of the data," Newsom said on Wednesday. "We feel there's no hurry to put out guidelines, and we continue to work with the industry."
The governor is alluding to the fact that his "Blueprint for a Safer Economy" doesn't have any information relevant to theme parks, which is odd considering how many Californians they employ. To wit, Disney is laying off 28,000 people in California, two-thirds of whom are part-time workers. Without rules they can follow in order to open, Disneyland will remain indefinitely closed.
"To our California government officials, particularly at the state level, I encourage you to treat theme parks like you would other sectors and help us reopen. We need guidelines that are fair and equitable so we can better understand our future and chart a path toward reopening," pleaded Josh D'Amaro, the new chairman of Disney Parks, Experiences, and Products.
The governor continues to insist that science is guiding his decision-making. Predictably, Disney has also pushed back on that assertion.
"We absolutely reject the suggestion that reopening the Disneyland Resort is incompatible with a 'health-first' approach," Disney Parks Chief Medical Officer Pamela Hymel said in a statement. "The fact is, that since March we have taken a robust science-based approach to responsibly reopening our parks and resorts across the globe."
Disney's reopening record isn't quite as spotless as Hymel says, but Newsom has given no indication that the track record of Disney parks outside of California is a factor in his decision-making. He also hasn't really elaborated on what specific information he needs to issue guidelines for theme parks or why that information wasn't needed.
Unfortunately for Disney, Newsom holds all the cards. And barring some kind of judicial intervention, it sure looks like Disneyland will only reopen when the governor gets whatever evidence he's looking for.
This article was originally published on