Disney World is Now on Google Maps and It's Kind of Hilarious
Street View gives potential visitors time to slow down and realize what a random and hilarious place Disney World can be.
by Raz Robinson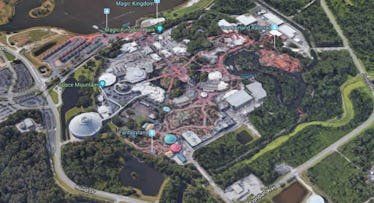 Google Maps
Google Maps now facilitates Street View tours of Disney World in Orlando for fans looking to do a little bit of digital wandering or parents looking to familiarize themselves with the environs in order to make the most of a big trip. Google had previously provided Street View access to the Grand Canyon, but the avenues and boulevards of the happiest place on Earth had remained off that particular digital grid until last week.
The fun doesn't stop at Disney World either, 11 of Disney's parks will now be available to look at through Google Maps. That's a lot of new square footage and a lot of castles. In a sense, the functionality allows users to enjoy the parks without crowds. In another sense, it provides something more like a slideshow experience than like the genuine artifact.
The most amusing element of the new Street View is all the individual images of tourists and vacationers doing a double-take at the Google guy walking around with a 3D camera on his back. They don't have expressions precisely — Google blurs out faces on Street View for legal and ethical reasons — but one does still get a sense of their shock at finding the panopticon in line for Space Mountain.
This article was originally published on