Disney World Hikes Prices Again, but What Are Families Paying for Now?
Disney raised the cost of entry to both parks by as much as $11, and that's just during the regular season.
by Raz Robinson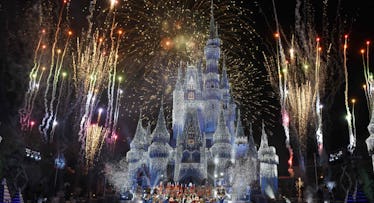 Getty
The happiest place on Earth is slowly becoming one of the more expensive ones as Disney just raised the cost of entry to both Disneyland and Disney World parks by as much as $11 over the weekend.
Parents who hope to take their little ones on a trip to Disney World will now pay $4 more to gain entry, making the cost $119 for adults and $113 for kids. Troubling enough, those figures only account for the off-peak season. During the peak season, tickets will be $129 for adults and $123 for children — a $5 increase. Disneyland admission costs were jacked up even more. Regular season tickets increased $7 while the peak season fare increased $11. Alongside park entry, the cost of parking will be hiked from $2 to $22. (Comparatively, it only costs $76.99 for one adult ticket to visit Six Flags for a day and only $79 to get into a Knotts Berry Farm.)
Disney officials say that they're hoping to spread out park attendance across the year, but the fare hikes shouldn't surprise anyone. Disney has a long history with them. Since Disney World opened in 1971, the cost of entry has increased almost every year. Originally, the cost of entry was just $3.50. When adjusted for inflation that equates to $21.10, a far cry from the hefty $129 people are paying today. Though the prices can feel outrageous, and they certainly are, Disney World's infrastructure costs are higher than one would expect.
For example, running Disney World is said to be analogous to managing a city with about 300,000 residents. The park doesn't just have its own electricity and gas processing plants, but its automated garbage and recycling systems produce close to 24,000 tons of recyclables a year. Laundry is another surprisingly huge expense. About 13,000 pieces of custom clothing for 2,500 different costumes are designed and manufactured on-site every year. Mickey Mouse alone has close to 300 outfits.
As entering the park for the day becomes more expensive, it's unlikely that the prices will plateau anytime soon. This is especially the case considering Disney just spent half a billion dollars on The World of Avatar, its most recent 12-acre immersive attraction. Star Wars: Galaxy's Edge, another immersive attraction, will also be coming to Disney land in 2019. All the more reason to encourage kids to keep saving their allowance.