Disney Parks Will Finally Feature Black Santas For The First Time
Visitors to Disney World and Disneyland can meet a more diverse group of Santas this year.
by Ethan Freedman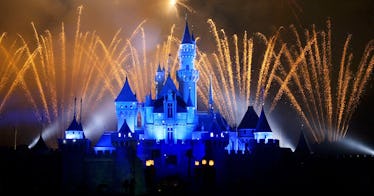 GETTY
Families who celebrate Christmas at Disneyland or Disney World this year will have a little more representation to cheer for: both theme parks are greeting guests with Black actors portraying Santa Claus, reports CNN.
Park-goers at both Florida and California properties have been able to meet up with these Santas at various events and parties, CNN reports. While Disney didn't make a big to-do about this development, they did tell CNN that their Santa Claus will embody a diversity of ways he's celebrated.
Casting such as this can be important for representing the diversity of kids who celebrate Christmas and believe in Santa Claus. Representation in children's stories might be especially important, points out HuffPost, since kids can learn lessons about racial bias and diversity early on.
Santa Claus is a mythological character celebrated by children and families in many countries. His origins lie in an amalgamation of historical figures, folklore, oral tradition and advertising campaigns. And since kids of many different racial backgrounds believe in Santa Claus, it only makes sense for portrayals of Santa to be just as diverse.
Of course, not all kids and families celebrate Christmas either – only about 90% of Americans celebrate the holiday, according to the Pew Research Center. In addition, as of 2017, a majority of Americans thought that Christian religious symbolism, such as nativity scenes, should either not be allowed on government property (26% of those surveyed) or only be allowed if visible alongside decorations from other traditions (29% of those surveyed), Pew found.
But Disney theme parks are not government property, as they are owned and operated by a subsidiary of the Walt Disney Company. And for those visitors who do celebrate Christmas, this year's more diverse depictions of Santa Claus can help create a more representative holiday season.