You Can't Unsee These Disney Animals Redrawn As Humans
Isabelle Straub is making some of the coolest Disney fan art ever.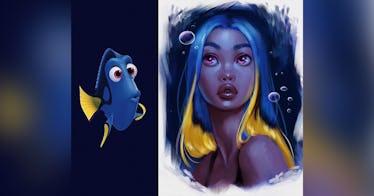 In the grand tradition of projects that gave Disney princesses realistically smudged makeup and made Keanu Reeves every Disney prince comes a new effort that shows what classic Disney animal characters would look like as people.
The unofficial project is the brainchild of Isabelle Staub, a Valley Forge, Penn.-based professional illustrator with a BFA, lengthy portfolio of work for companies like Marvel and Wacom, and over 462,000 followers on Instagram. She's built a following with complex, emotive portraits of women both real and fictional, and her viral Disney project is no exception.
Human Disney princesses get a lot more attention from humans even though animated characters like Dory and Lady are just as interesting and important. Staub's project takes the most distinctive physical features from each animal character and inserts them into original drawings that are definitely human but also unmistakably linked to the original animal art.
Staub has been documenting the creation of each piece on TikTok, where they've been very popular: A close-up video of her drawing Dory from Finding Nemo and Finding Dory has racked up over 9.2 million views to date.
It's remarkable how Staub took Dory's eye color, fin color, and pursed lips and integrated them into the final product.
Some of her other efforts include a reinterpretation of Nala from The Lion King, a movie that's inspiring a lot of reinterpretations as of late.
For her drawing of a human version of Lady from Lady and the Tramp, Staub focused on the dog's trademark upturned nose, flowing waves of deep auburn hair, and teal collar, which Staub integrates as a sort of choker necklace of the same color in her human character. The sweater looks straight out of a WASP lookbook, befitting the dog character's patrician background.
Staub has only scratched the surface of this project, and the characters she hasn't yet drawn as people — Big Mama from The Fox and the Hound and Bambi come to mind — could make for some more captivating illustrations.
This article was originally published on