Disney Announces Star Wars Animated Series 'Star Wars Resistance'
This is an exciting change of pace for the Star Wars animated universe.
by Raz Robinson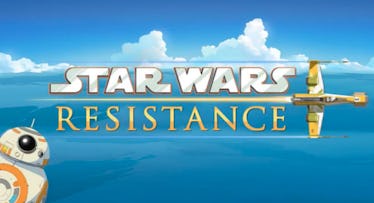 Youtube/Disney/Netflix
Lucasfilm has announced that the next animated chapter in the Star Wars animated universe will be called Star Wars Resistance. The new series, a quasi sequel to the hit Star Wars Rebels that will air first on the Disney Channel, will highlight the time period between 1983's Star Wars: Return of the Jedi and 2016's Star Wars: The Force Awakens. Just like Rebels led right into A New Hope, Star Wars Resistance will culminate with the events of The Force Awakens.
The new animated show was inspired in part by the history of World War II pilots and will follow a young pilot named Kazuda Xiono (solid name) recruited by Princess, erm, General Leia Organa. Star Wars Resistance will also feature characters popular in the new trilogy like the chromed out Captain Phasma, ace pilot Poe Dameron, and BB-8, the astromech droid.
There's a lot of reason to be excited. The previous entries into the Star Wars animated canon have been notoriously good. Clone Wars expertly dove into the exploits of a pre-Vader Anakin Skywalker, while Rebels was a nice change of pace that introduced fans to a whole new roster of characters and their fight against the Galactic Empire's path towards domination of the galaxy. Rebels is particularly great because it focused on the politics of revolution without becoming about the intricacies of planet-to-planet trade.
Like Rebels before it, Star Wars Resistance appears to represent another big pivot in the style of the animated universe. The series is actually "anime-inspired," which is something that fans of Star Wars cartoons have never really seen in the past. Fans shouldn't be too wary of the new style though, really iconic and brilliant US cartoon series' like Avatar: The Last Airbender and Teen Titans were also inspired by anime, some might even argue that the former is just an anime through and through. If that's not enough reason to get hype, Dave Filoni will be helming this series just like he did for both of its predecessors.
The new series has no release date but will be premiering on the Disney Channel before it ultimately makes its way to Disney XD. By way of the channels, it's on, one can fairly assume that it's safe for kids to watch. But keep in mind that Rebels, a generally lighthearted affair that also made its way onto Disney XD, got super dark more than a handful of times. Still, if you can't wait for the new series, brush up on some history with Star Wars: Clone Wars. All seven seasons have easily been on Netflix for, at least, the better part of six years.