Idiot NFL Coach Lost Best Receiver After Insulting His Parenting
It's hard to imagine how he could have handled this any worse.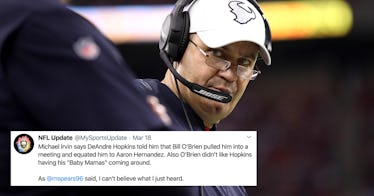 Getty
Last week's news that the Houston Texans were trading star wide receiver DeAndre Hopkins for an oft-injured running back and second-round pick was baffling, to put it politely. Texans head coach and general manager Bill O'Brien was widely excoriated; ESPN rated the trade an F and a prominent Texans fan site formally called for O'Brien's ouster.
Former NFL receiver turned broadcaster Michael Irvin was just as confused as everyone else. The difference is, he has Hopkins's phone number and, as a Hall of Famer and three-time Super Bowl champion, his respect. So Irvin dialed up the four-time Pro Bowler to find out what the hell happened. As it turns out, agreeing to such a paltry return in the trade was a step O'Brien all but forced himself to make.
As Irvin told it on the ESPN morning show Get Up, there was some tension between Hopkins, who'd played his entire career for the Texans, and O'Brien, who became head coach in Hopkins' second season and GM at the end of January. The coach though his receiver had "too much influence over the locker room," and in a meeting he called to discuss it, O'Brien made not one but two impressively stupid blunders.
According to Irvin, O'Brien compared Hopkins to Aaron Hernandez, a dude O'Brien coached in New England who was literally a convicted murderer despite the fact that Hopkins is by all accounts a model citizen. We'd be pissed too.
O'Brien also had some harsh words about Hopkins as a father, which feels even more insane.
"[O'Brien] got into talking about DeAndre Hopkins because DeAndre Hopkins has a few kids from different women," Irvin recounted. "He told DeAndre that he doesn't like that he has his 'baby mamas' around, sometimes."
First of all, the term "baby mamas" is wildly offensive not least of all because it's rarely if ever used when referring to white people. Second of all, what an employee's family life is like is irrelevant to their supervisor unless, of course, it affects their work. Hopkins was and is one of the best receivers in the NFL; he was first-team All-Pro last year, so it doesn't appear to be affecting his work.
Hopkins did seem to want to tamp down this controversy in a tweet, but he has an interest in focusing on his future in a league that doesn't reward outspoken players. But he pointedly did not contradict Irvin's account, which you imagine he would do if there was anything substantively incorrect about it.
At this moment, it sure looks like the head coach of the Texans used a racialized word to criticize the personal life one of his best players, causing that player to demand a trade and the Texans, in a poor bargaining position, to accept far less than he is worth in return. If that is the case, it's not just a bad football decision, but a comment so misguided that it's hard to justify O'Brien keeping his own job with the team.