Mom Goes Viral After Daycare Writes On Her Son's Stomach to Shame Her About Diapers
What could make anyone think this was a good idea?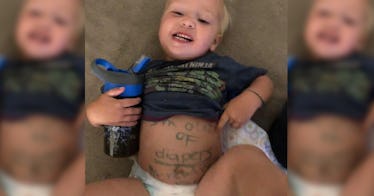 In one of the most out of line cases of parent shaming imaginable, a Florida daycare employee used a permanent marker to write on a little boy's torso. Seriously.
We know about this incident because his mom, 23-year-old Heather Chisum of Sanibel, Florida, wrote about it on Facebook. She detailed the daily notes that the school leaves for her and how, when she missed one that said her son needed diapers, someone at the school chose to use her son as a Post-It Note.
But instead of simply reminding the single mom with a full-time job when she came to pick up or drop off her kids, one of the teachers at the Children's Education Center of the Islands pulled the permanent marker stunt.
"I've scrubbed it with several baby wipes and it's not coming off," Chisum wrote. "I had plans to take them to the beach to play, and now I can't because my son has writing all over him." The pictures support her story, as they show how the writing grew fainter but was not completely removed despite her best efforts.
And while it's not as shocking as to how they wrote it, what the employee wrote—"Mom I'm out of diapers pls read my report"—adds an extra layer of disrespect to the situation.
The overwhelming majority of Facebook commenters assured Chisum that this kind of thing—which has, amazingly, actually happened to Milo before—is not OK. After it went viral, the story received media attention and the school took action.
The Fort Myers News-Press reports that Cindy Carter DeCosta, the executive director of the school, said they were "terribly sorry for the distress it has caused the family involved as well as all of our families. It was a breach of our professional ethics on the part of the teacher." The paper also confirmed that the teacher had been removed from the school and that they were taking steps to make sure this didn't happen again.
Understandably, Chisum has still decided to pull her kids out. You would, too.